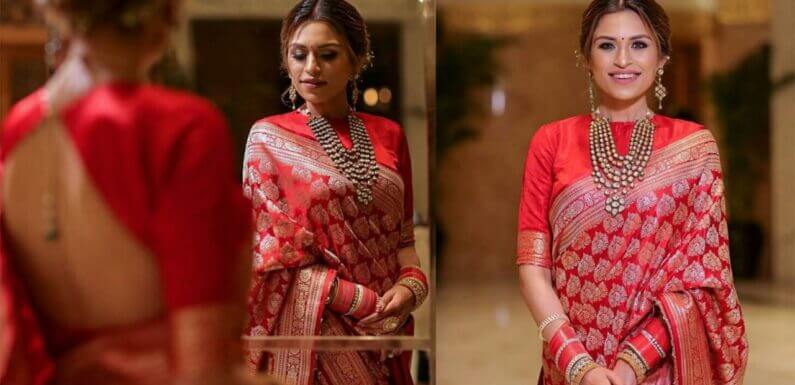 If you think Kanjivaram sarees are for the older generation, you need a dose of style inspiration from your favourite Bollywood celebs. Kanjivaram sarees are back in style and many women love to wear them during festive events and weddings. Instead of wearing a dress or a lehenga at your BFF's or cousin's wedding, you can wear a Kanjivaram saree.
Popular in South India, Kanjivaram sarees are a real class when worn during festive occasions. If you want to stand out from the crowd wearing a Kanjivaram saree, you will need to drape it in a unique style. So check out these amazing ways to style a Kanjivaram saree.
Go for a long-sleeve blouse: Instead of wearing a short-sleeved blouse as usual, you can pair your saree with a long blouse for a different look. Long-sleeved blouses are totally in vogue these days and Gen-Z knows how to sport them the best. If your saree is heavily printed, you can sport a simple long-sleeved blouse or can even opt for a heavily printed or embroidered one, depending on your saree. But let go of the hand jewellery in this case.
Drape it like a lehenga saree: When you can't choose between a lehenga and a saree, you can have the best of both worlds by draping your Kanjivaram saree in the lehenga style. For this look, you can try a colourful Kanjivaram saree and pair it with a matching backless blouse. Accessorising your look such as wearing a headband and earrings will keep your look classy.
Pair it with a kurta: If you are bored wearing your saree in the same usual way, you can tweak your look by swapping your regular blouse for a short kurta. A high-neck kurta in shades similar to that of your Kanjivaram saree can be worn in place of your blouse with your saree draped around it.
Add a belt: If you don't want to go the long mile to style your Kanjivaram saree differently, you can keep things simple by just adding a belt. A thick golden belt with or without a buckle can be worn around your waist on top of your saree. This will give your ethnic look a nice modern touch while also making sure that your saree stays in place. You can even swap the modern belt for a more traditional one such as a golden Kamarband to maintain the ethnicity of your look.
Wear a jacket: Keeping the best for the last. You can transform your ethnic style into an Indo-western one by pairing your Kanjivaram saree with a nice blazer. Instead of your formal blazer, you can get one made in the same fabric as your Kanjivaram saree or even a brocade one to keep the ethnic look in sync. To amp up your look further, you can add a modern gold belt on top of it.
Take your desi style to a whole new level by styling your Kanjivaram saree in these multiple ways.