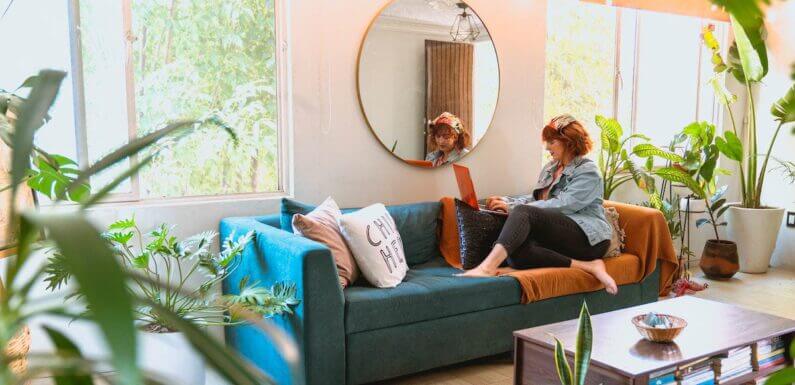 The Covid-19 pandemic significantly changed the work structure and forced many employers and employees to work from home. Many people were used to dressing up and showing up to the office every day of the week. Working from home gave people the privilege to wear more relaxed clothes, allowed people to dress according to their moods, and made people dress up in a relaxed and casual manner. Many people ran to the most basic dress code of wearing sweatpants and a t-shirt. It is essential to be mindful of fashion sense despite working from home. Some of the outfit ideas include the following.
A Tunic Blouse Tie Knot Shirt
Putting on a comfortable tunic blouse and pairing it with denim jeans or leggings will make you look out of the ordinary and stylish. You could choose a bright or nude color from the wide selection of colors. Choosing a vibrant color goes a long way in boosting your mood.
Boot-Cut Yoga Pants
Pairing your yoga pants with a nice elegant blouse makes you look professional and comfortable while working from home. The yoga pants come in different colors, which you can mix and match with blouses to create a new look.
Mesh Detail Pocket Leggings
A pair of leggings could blend with any blouse, t-shirt, or sweatshirt; hence, ensure you have a pair for your work-at-home outfits. You don't have to overspend on your stay-at-home clothes. Visit some sites selling affordable women's clothing, and you get outfits under $10.
A Comfortable Wrap-Me-Up
When selecting some of the most comfortable and warm clothing for work-from-home, ensure you have a fuzzy wrap-me-up. It goes a long way during cold weather or when working during the night. You could pair it with leggings or jeans. It is also suitable for days when you feel lazy or want to stay calm.
V-Neck Blouse
It provides a modern look for professionals working at home, and you could comfortably go to a zoom or web conference dressed in this outfit. It goes well with jeans or leggings and is perfect for going outside in case of an emergency in the middle of work.
Casual Pajama Pants
When working from home, the goal is to be comfortable with your dress code. When you don't feel like wearing jeans, wear your comfy pajama pants and a t-shirt. Most pajama pants are designed in a fashionable way that you can pair with other clothes and create incredible designs.
Palazzo Pants
Palazzo pants are the go-to outfit to look stylish and feel comfortable working from home. You could pair these pants with a blouse or t-shirt that blends well with the color shade. You can accessorize the outfit for a more sophisticated look, making you look fabulous when working from home.
Casual Jumpsuits
A jumpsuit or a romper gives a classy and elegant look when you wear it. It is eye-pleasing and very professional. On those days, you have a zoom call or web conference with your bosses or colleagues, and you can show up in a jumpsuit. It gives a sense of elegance and comfort when you put it on.
These jumpsuits come in different designs as well as colors. The different designs include a romper play-suit, a jumpsuit with pockets, an off-shoulder romper, insulated overalls, and a denim embroidery boyfriend jumpsuit. These jumpsuits provide a casual and fashionable look while working from home, and you could also hang out with friends after finishing up work while in them.
Shirt Dresses
Shirt dresses are the ultimate comfortable outfit you can wear while working from home. On days you feel lazy, you can always rely on a shirt and dress. It also provides a decent look for video calls with bosses.
Bell Sleeve Mini Dress
It is another chic outfit you can put on while working from home. You could put it on Friday when you're getting ready for the weekend or during summer. To complete the look add some accessories like a gold necklace and earrings.
Conclusion
Work-from-home outfits should not be boring, and your fashion sense should always be upheld despite working in the house. Dressing up might relieve some stress and assist you in getting back to your regular work routine.