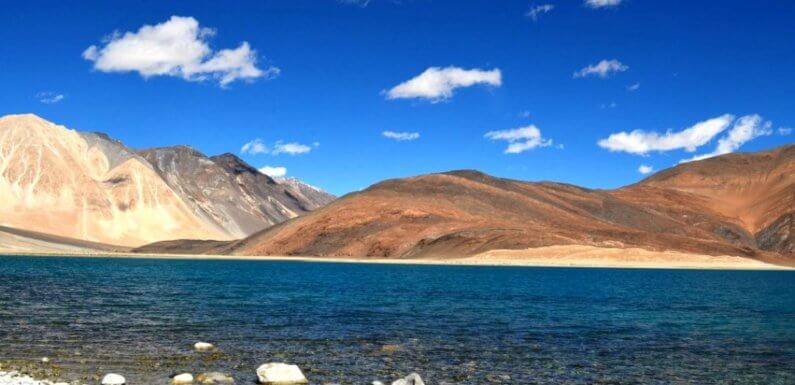 Ladakh is an ultimate travel destination for adventure seekers and one of the best places in India that we are proud to have in our territory. Be it trekking in the Himalayas, rafting in Indus or road trip and mountain biking, trip to Ladakh gets you high on never ending adrenaline rush. Everything conjures a travellers dream here from the enormous peaks to the still lakes, the vast roads or the tranquillity that lies in the air.
If there's anything that can ever stop you from exploring this part of India, then it's only you! Stop looking at the books, it's time to pack your bags and rush off to this majestic landscape after looking at some of the best leh Ladakh tour packages cost.
More about Ladakh
Ladakh is a vast landscape of unspoiled beauty. Leh is the largest town of Ladakh and cannot be missed at all. The picturesque town of Leh is an ideal base for exploring Ladakh; it was also once the capital of this place! Explore serene Pangong Lake, admire snow-capped peaks, stroll the banks of Indus & Zanskar rivers, enjoy folk dance shows and lot more in this city.
Spread over a vast area, Ladakh is the largest district in India and is situated at the highest altitude offering you views which are splendid and surreal in every sense. Kargil and Leh are the two districts of Ladakh. The Buddhists Gompas (Monasteries) are the most attractive features of this land and a must visit while you are here.
One can also reach Ladakh by road through the Leh Manali highway. You can travel from Srinagar or also go via Manali. The road trips can only be made from late May to early October, as during the winters the high mountain passes get clogged due to the heavy snow.
Most tour operators offer best Leh Ladakh tour packages which could range anywhere from a 4-5 days Ladakh tour to a 10-12 days Ladakh tour, offering you the package at ten best rates and an itinerary which helps you to explore the all the best places at Ladakh. Let's look at some:
Ladakh Delight
An ideal tour for those who can't have more than 10 days on hand, this 6 days tour helps you to explore Ladakh by giving you a total experience of everything that the place has to offer. As you visit the Indus Valley Monastery and Hemis Gompa, the largest monastic foundation of Drukpa Kagyu Order of Tibetan Buddhism, you get lost in the ultimate peace and spiritual vibes that most travellers experience while they are here.
Thiksey Monastery an impressive complex rising tier upon tier on a hill above the village is such a lovely monastery to visit. You will also visit places like the Shey Palace, 3 Idiots Rancho School, and Sindhu Ghat which don't lie too far off from each other.
As you drive towards Nubhra valley, you will also get to rush through the Khardungla pass which is the highest motorable road on earth and as you experience this ride, you will realize it will certainly be the best ride of your life. You will get to view some peaks of the Zanskar range which are enormous and simply stunning to watch.
As you head off to Pangong and Alchi, enjoy the silence and the innocence of the Pangong lake and sheer tranquillity at the Alchi monastery, Likir monastery, Sangam and Zanskar rivers and the Magnetic hill etc. Wind off this tour but not without a taste of the local cuisine and some lovely conversations with the local people who are full of warmth and love.
Always do a season check:
    Summer (June till September) is the best time to visit Ladakh!
    The season of Oct till May are very cold here! Its snow everywhere as temperatures falls down below 0 Degrees Celsius.
    Ladakh is a perfect place to be at during monsoons! Temperature is really cool at this time.
    Monsoons – At times it rains, just in pieces! There is no particular time for rainfall here.
Some Things to Keep in Mind
Since the terrains of Ladakh are tough and the place is situated at a high altitude, make sure you are in the best of health when you visit this place. People sometimes experience extreme nausea, motion sickness, and difficulty in breathing when they visit Ladakh. To make sure you don't experience any of these, talk to your tour operator and also take some guidelines from a doctor as well.
Make sure you are not suffering from any serious conditions if you decide to visit this part of India. Take adequate rest while you are here and don't end up exhausting yourself with all the excitement of exploring this place. Pack and carry all the important things you need to in order to keep yourself safe and in the best of health. Find out all the information regarding Leh Ladakh tour packages cost and opt for the ones which best suits your budget.
Remember………..you are too small in front of nature. Don't try to win nature, let nature win you over while you are here. Be safe and do good and always listen to your tour operators as they are your real guides while you are In Ladakh.