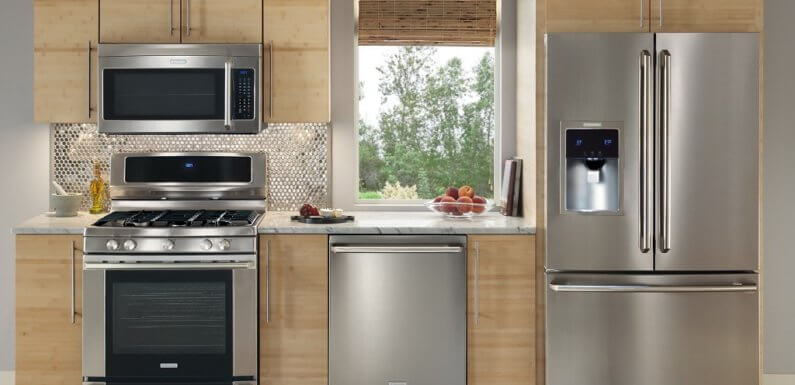 Appliances are the essential part of every kitchen and based on them, we will judge its functionality as well as the beauty of its design. Therefore, one must put a lot of thought into choosing the right ones. In order to help you do this properly, we've prepared the ultimate guide on the art of selecting the best kitchen appliances for your home. Let's take a look and get inspired!
Choose your cooktop strategically
First things first, without a good cooktop, you won't be able to do your magic in the kitchen. Therefore, it's extremely important to be smart here and opt for the one that will suit your needs the best. For instance, you may choose between a gas, electric and induction one based on several criteria including their performance, energy consumption and the size of the necessary initial investment. So, if you, for example, value energy efficiency above anything else, think about opting for an induction cooktop which reduces the amount of heat loss and accelerates the cooking process significantly. On the other hand, while it's true that a gas one gets heated much slower in comparison to the electric one, it has been shown to be much more environmentally-friendly. Having all this in mind, your job is to set your priorities straight and buy a new cooktop accordingly.
It's time you invested in a quality dishwasher
Let's be honest, there is nothing more dreary and frustrating than washing piles of dishes after every meal. Luckily, there is a savior ready to lend a hand – the dishwasher. Considering how much this appliance can make our lives easier, it is definitely worth investing in. However, you should choose wisely because some of them are less energy-efficient and consume more detergent and water than an average one. Furthermore, depending on the size of your family, you should decide whether to opt for a larger or smaller one. Even though the latter may seem like a less expensive option, it won't do you any good if you have to turn it on twice a day in order to wash all the dishes. You'll even end up paying more due to the astronomical electricity and water bills. Finally, when it comes to their design, we particularly like those which can be disguised to fit your kitchen décor and thus not interrupt the flow of the place.
The oven requires special attention
When it comes to ovens, you can choose between a convection one and one that is both traditional and convection. It's true that the majority of people go for the first option because of its low price, speed and energy-efficient qualities. However, if you're a true chef and have a very refined taste, the traditional oven is definitely the right way to go. Furthermore, when choosing the brand, if you, for example, go for Bosch appliances, you should stay faithful to them. This way, you'll always know whom to call in case of an emergency instead of searching for numbers of numerous different services and wasting your valuable time.
Don't forget the fridge!
There are so many different refrigerators on the market today that you may get totally confused and unable to decide on which one to buy. However, if you consider your needs carefully in advance, finding the right one will be a piece of cake. You can start by estimating how big it should be. For example, if you live alone and need it only for storing the essentials, it is wiser to go for a smaller one that can easily fit in the corner of your kitchen and spend much less energy. On the other hand, if you have a large family, you have no other option but to invest in a bigger one. On top of that, we advise you to give refrigerators with a Wi-Fi connection a try as well. Not only will they keep track of all your groceries and alert you when you're out of something, but they can monitor expiration dates as well and thus prevent you from getting sick. Sounds amazing, doesn't it?
As you can see, choosing the most adequate kitchen appliances is not such a difficult task if you devise a sound plan and stick to it. You just need to consider your priorities, life habits and then go for an appliance that will meet these standards. Lastly, remember that we are all different, so instead of blindly following other people's suggestions, think outside the box and make decisions according to your needs.