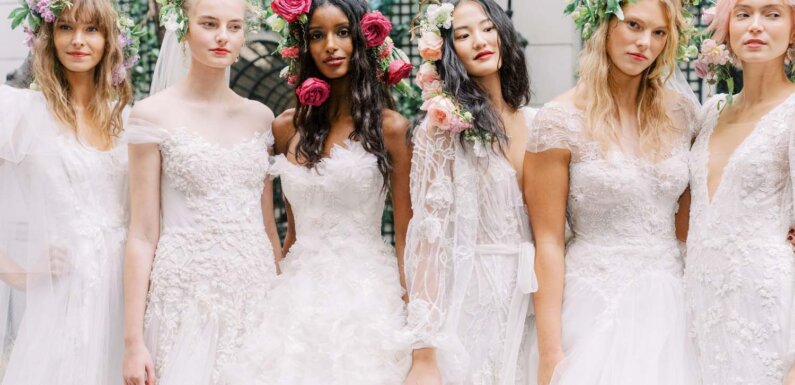 There's a huge chance that your calendar is already filling up with weddings this year to make up for the tragically missed dates and craziness of 2020. Maybe it's your own wedding you have to start planning for (again). If so, you've come to the right place.
Regardless if you got engaged during quarantine or you, like so many others, had to go back to the drawing board to accommodate the rescheduling of a wedding date that was set smack dab in the middle of the pandemic, we've been keeping a watchful eye on all the bridal trends you can expect to see this year, and we'd love to share them with you.
Here are a few things to be on the lookout for if you're going to be a bride in 2021.
Bridal Dresses on a Budget 
We promise that you do not need to spend thousands of dollars on your perfect wedding dress. You'll be surprised that there are plenty of options that are timeless, breathtaking, and surprisingly affordable. Just be sure to do your research to ensure that you are getting a quality dress and that it will be shipped in time for your special day.
Mixing & Matching
Perhaps you have a larger budget and have been dreaming about a dress that fully mirrors your unique personality. We have been seeing some brides opting for a fully custom design that is unlike anything on bridal shop racks. Mix and match your ideal bodice with the skirt you've been dreaming of for a truly unique look.
Lace
The resurgence of lace (as if it ever wasn't trending) is undeniably popping up all throughout the bridal runways. This timeless fabric is seen frequently on trending dress styles as a sweet accent that ties the gown together. Whether you are opting for delicate Chantilly lace or are opting for something more modern, it is a bridal dress detail that will surely go unnoticed.
Ivory
We've been keeping an eye on bridal color preferences and have found a move away from bright white, with brides tending to favor ivory and off-white colors this year. There's no shortage of shades for you to explore when searching for the perfect gown for you. Much of this depends on your skin tone and personal preference, but these details are incredibly important when finding the dress that's right for the biggest day of your life.
Emerald Green & Rust Orange
There's something about these deeply rich and vibrant colors that brides are finding irresistible for their bridal parties. These colors pop in the best way and will ensure a bold statement in your wedding photos. Yet another growing trend is velvet, and these colors happen to be widely available in this soft and flattering fabric. Choosing the color scheme and then allowing your bridesmaids to decide on their own dress style is a popular trend that your bridal party will be sure to appreciate.
Micro Weddings
A noticeable trend to be on the lookout for, and something to consider yourself if you're planning your own wedding, is keeping the celebration minimal. We are seeing a move to more intimate ceremonies and even receptions these days, as large gatherings aren't fully conducive to the current climate. Many brides are finding that the smaller, the better when it comes to their special day. We're expecting to see many glowing brides celebrating their love in a more minimal way than what was on-trend in previous years.
Classically Minimalist
In addition to smaller weddings with a select few making it on the guest list, we're also seeing a stylistic return to minimal elegance in terms of wedding gifts, wedding gowns, simple solitaire rings, and decor. Many brides are finding their dream dress to be gorgeously simplistic, a nod to understated beauty with clean lines. Additionally, brides are gravitating towards letting simplistic yet gorgeous decor speak for itself without overwhelming the ambiance.
All-Encompassing Food Stations
It can be easy to rack up an insane amount of money on food. We're noticing brides are trying to put a stop to this by getting creative with the food stations they offer at their receptions. You're going to see a whole lot of easy and delicious finger foods at weddings this year, including bite-sized pizza, DIY sweets tables, and even taco stations! Making sure your guests are properly fed, especially if you have an open bar situation, is a great way to avoid any drunken wedding day catastrophes. Plus, it's what many guests look the most forward to besides seeing you walk down the aisle!
---