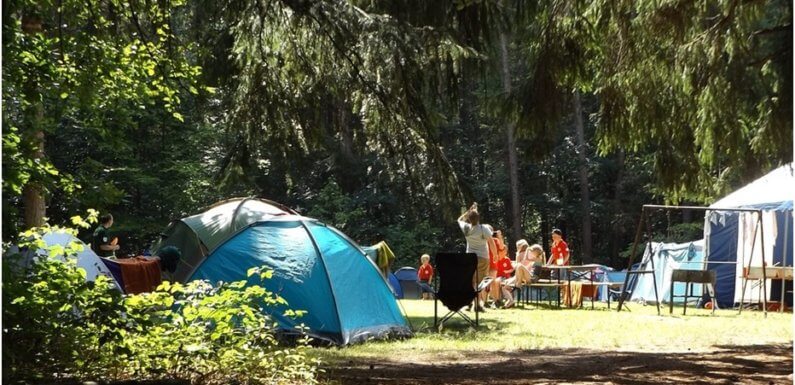 What do New Yorkers do when they need a break? They go home and take a nap.
That may sound like a joke but if you live in New York, you know how true that is. New York is one of the fastest city in the world. It is the city where time flies. From kids to adults, everyone seems to be too busy for a break. Ironically, that's exactly the kind of lifestyle that makes a break so essential. And by break we don't mean a trip to the amusement park, we mean a break from the hustle and bustle of the urban jungle. You need a break in the arms of nature.
Do you know that New York offers amazing camping opportunities for the whole family? There are many camping grounds that can offer the much-needed break to the whole family. You can plan a weekend trip and enjoy a mini vacation without skipping work or office. You can have a longer break without breaking the bank. Yes, camping is popular in New York and there are many campsites to choose from. Here are five truly amazing places that offer a perfect camping experience for the whole family
1.    Watch Hill Campground, Fire Island
Watch Hill Campground started as an exclusive ground that could only be booked if you were lucky enough to win a lottery. Now it is open for anyone who is quick enough to make a reservation before all the twenty-six sites are booked. It is a car-free campground. You will have to reach Fire Island via boat or ferry. Many people prefer private boats that can be safely docked for as long as you stay at the camp. Watch Hill doesn't have a lot of greenery to offer but it's close to the shore and you can enjoy plenty of water activities with family.
2.    Hither Hills State Park, Montauk
Hither Hills is a popular destination for families who enjoy water activities such as paddle boarding and fishing. You can enjoy everything Montauk offers without spending a fortune on accommodation. You can camp at this green and grassy campground your whole family would love. There is a lot for the little ones to enjoy at Hither Hills campground. There are exclusive playgrounds for the kids and walking trails for the adults. This place is also great for those who want to camp but not to cook. With no fire pits at the site, you can go to the town to grab a bite.
3.    Little Pond Campground, Andes
If your idea of a perfect family vacation involves fishing, Little Pond may be the best campground to hit. While the ground is small with limited sites, you get to enjoy a plethora of activities at the 13-acre pond. Young ones learning to fish can drop a line into the pond while you can step outside to catch a trout. This place is also perfect for a romantic walk with your partner while the kids enjoy their day at the camp. You can also hike with your whole family. One of the best things about Little Pond is that there is plenty of privacy due to the woods.
4.    Malouf's Mountain Sunset Campground, Beacon
If it is your first family camping trip, Malouf may be the best option.
Malouf Mountain Sunset campground offers an experience that will leave your whole family addicted to camping. Offering a true break from the city life, this is a car-free campground.
Beginners can choose a site with kitchen box, table, and other essentials. Seasoned campers, on the other hand, can go to a site where you have to do everything on your own. If you aren't much of a cook, you can order your meal from a close by restaurant. There are various hikes, ranging from family-friendly ones to professional ones. Overall, this campground delivers an amazing experience for the whole family.
Fort Wadsworth, Staten Island
It is not unusual for New Yorkers to be particular about their proximity to their homes. This campground will keep you close to the city. Fort Wadsworth, the historic site, has seven campsites suitable for families. You can pitch your tent at a spot that offers beautiful views of Manhattan. You'd be amazed by how serene the city looks from a distance. At the site, you can enjoy activities such as fishing and swimming. Let's not forget, this is also the perfect place to familiarize yourself with the birds of New York. Now for the best part, this is a campground you can conveniently reach via bus once you have reached the Staten Island by Ferry.
So, if you want to enjoy a vacation without flying too far away from your beloved city, camping is a great option. Fortunately, the city has plenty of options for families. First, do your homework and figure out how to choose a tent. Find the right campground and site, and you would never want to camp anywhere else.