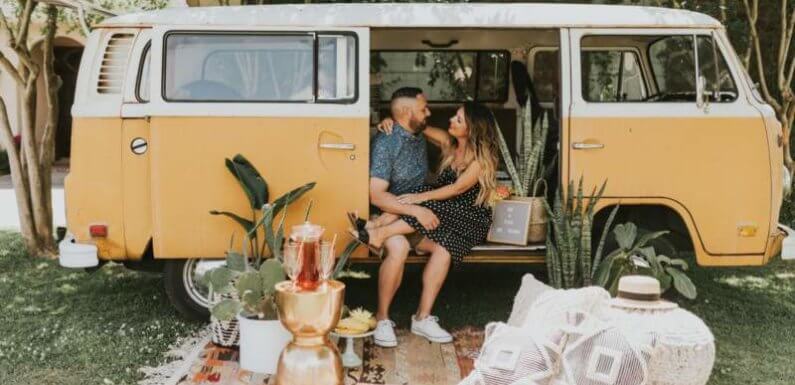 Marriages are for a lifetime, and for such a long period of time, it's obvious to have some ups and downs. And it sure is difficult to balance those ups and downs and at the same time managing to keep up the excitement of the relationship.
Efforts are important as to keep that fizz going on in your rocket of marriage and to keep those vows you exchanged in love.
Here are some tips to keep that love and spark alive in your marriage even after years.
1)  PRIMP UP
Yes, dress to impress once more. Pamper yourself a little bit more. Try to look good and focus on your appearance. This will help you boost your confidence and also to impress your loved one once again.
Get a new hairstyle, refresh your wardrobe and try to look your best. Try something different, flaunt your curves with a sexy corset and leave your partner in awe. Working out and keeping your body fit will also regain your strength to light up that lost spark of your relationship.
Your partner's interest in you will increase obviously when they see you all spruced up.
2) WINE AND DINE ( LET'S DATE ONCE AGAIN )
As the time passes by, we all get busy with our work and the responsibility of the household sometimes overthrow the desire to keep up the love. But as you are determined to keep up the fun in your marriage, start afresh.
Get flirty, go on dates like you used to at the beginning of your relationship and to places where you both have sweet memories. Believe me that feeling of nostalgia will help your love bloom once again.
Wine will work wonders to revive your memories and help you come closer to each other again.
Choose a wine suitable for your partner's taste and give them a soothing surprise.
Treat yourselves with an amazing dinner date and some sparkling wine and have a wonderful time together.
3) FIND SOMETHING TO DO TOGETHER
Having the same interests and hobbies helps you to get involved with each other and spend some quality time together. Whether it is working out, planting or even cooking.
Share your experiences, appreciate each other's performance, this will enhance your bond. Also, try to take part in each other's hobbies as well.
Try to have some similar classes. Doing something together will also increase your understanding and boost your team spirit. This will make both of you feel good and important too.
You can have some fun together, it's a lot better than returning home and doing the same things all the time.
4) APPRECIATE
Compliment on their little achievements, praise them on their looks. It may sound so obvious but these are the little things we often forget in our daily lives.
Put each other first, over your work and responsibilities. Show them that you care and remember every detail about each other. These things make them feel loved and also show your warm heart for them. Watch each other's work and praise them for what they are good at.
It will increase their confidence as well as make them feel that you pay attention.
5) SURPRISE
The easiest way to make them feel special, Surprise your spouse. Spoil your partner with gifts, delicious food and perhaps some wine. They say that the way to a person's heart is through his stomach, so cook some delicious meals and win their heart once again.
Cheesecake might be the best dessert after a lovely romantic meal. Prepare a special night and do something different than what you usually do and be adventurous in bed.
Plan for some trips to places they like. Treat them with delicious food or just give them a sweet kiss and leave them in surprise. Focus on the exciting, different ways you can do things together.
The biggest cause of faded spark in marriages is because of grudges. Don't hold grudges, try to forgive and forget.
Learn from your mistakes. Be honest with each other, trust each other and try to maintain that trust forever.
Focus on what keeps you together not on what tears you apart. Be flirty, dress and impress each other, support each other in every situation possible and carry on having a great life together.
A successful marriage requires falling in love, over and over again with the same person. Strive to give your best to each other and build your life with love, care and affection until the end.
May your marriage be full of laughter!