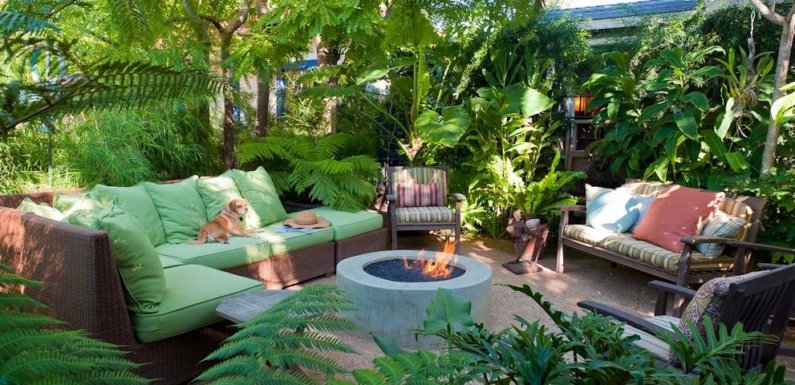 The concrete jungles which we call cities make it hard for nature to find its way into our lives. Fortunately, you can grow your garden in the backyard of your home easily. You do not even need to have a big space in your backyard to make it aesthetically pleasing. 
You can modify even the smallest of spaces into admirable gardens with the help of proper designing. Smaller gardens enjoy the distinct advantage of needing much lesser maintenance effort and cost. 
You may even consider creating a garden in your backyard as a DIY project which will prove to be an entirely satisfying venture when you finish your vision. If you find it hard to design a garden in your backyard all by yourself, then you can avail the services of a professional designer. A designer can aid you in providing the ideas for making your backyard into a garden and can also recommend builders or contractors who are apt for the project. 
Through this article, we will go through seven stunning ideas that you can implement in your backyard to spruce up your garden. 
1. Build A Pergola Or An Arbour
Installing a pergola in your backyard garden may seem to be expensive. However, you can set up a pergola for a meagre price. The size of your backyard and the space you want to assign to a pergola will be the deciding factors on the size of your pergola. 
You can alter the design elements to make it fit in narrow spaces. You need to build your pergola to at least 7 feet in height to provide safe clearance for everyday use. You will also need to give more leeway if you intend on growing plants or climbers over the pergola. 
Pergolas can serve as an excellent entryway or archway for your garden or sections of your garden. Consider building pergola using materials that complement the surroundings such as the fence of your backyard, your home, or your outdoor furniture to make it visually appealing. 
2. Garden Statues
Garden statues are among the most classic and elegant decorations that you can include in your backyard garden. You can choose to upcycle old statues or materials for installing sculptures in a budget or buy premium offerings.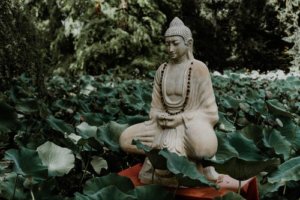 Garden statues are a traditional idea, and it is gaining momentum again in recent years. You can go subtle or exuberant depending upon your scheme of decoration using garden statues. 
3. Glow In The Dark Planters
Using glow in the dark planters are excellent to light up your garden backyard at night. You can make it a DIY project to paint your planters yourself with glow in the dark paints. 
This decoration is both aesthetically pleasing and serves to illuminate your backyard using unconventional means. Alternatively, you can try using light-up flowers that provide light and look just like a real flower. 
4. Foldable Picnic Tables
Picnic tables are ideal for enjoying food with friends and family in the outdoor environment. It is especially useful in the summer when the weather is pleasant, and it is too hot indoors.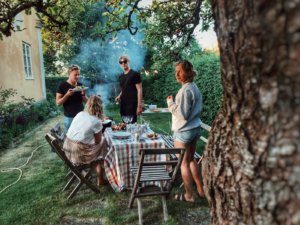 A convertible table is excellent for backyards that do not have enough space to accommodate a full table all the time. 
5. Gazing Mirror Balls And Optical Illusion Garden Mirrors
Adding mirrors to your backyard will make space look more significant than its actual size. You can purchase old balls of various capacities such as bowling balls and turn them into mirror garden balls. 
Garden mirrors may give the appearance of windows when they are mirrors, adding some depth through optical illusion to your backyard. 
6. Build A Wooden Or Stone Walkway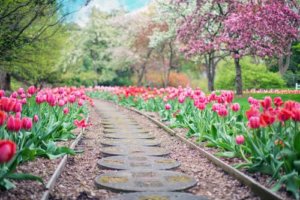 Building a wooden or stone walkway can add vital depth to your backyard garden. You can line the sidewalk on either side with colourful flowers to step up the contrast increasing the visual appeal of your garden. You can reuse old pallet wood to build the walkway yourself. 
7. Lighting Your Porch
The outside of your house adjoining your backyard must also have the same design principles as the rest of your backyard garden. You can use outdoor ceiling lights to brighten up your yard near the door and the steps of your house. 
Conclusion
You can also make your garden to appear bigger than the actual size by intelligent planning and positioning of various plants and accessories. You can make use of a plethora of design ideas to make your garden truly unique and beautiful. 
You will need to consider the available space in your backyard and plan according to the ideas which appeal the most to you. Deciding the utility of the garden for you can help you in making decisions such as installing a picnic table or glow in the dark planters.