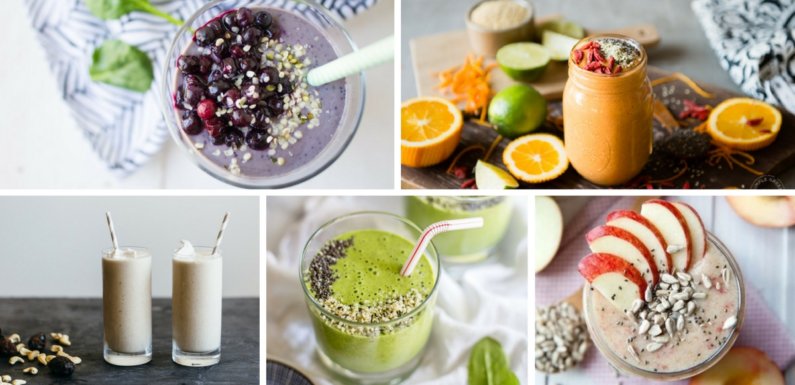 Smoothies are all the rage these days. Everyone from your grandmother to the baby seems keen on ingesting healthy ingredients with minimum fuss. Thanks to the constantly falling price of quality blenders, it's now well within the reach of just about any budget to put together smoothies that are quick, healthy and tasty.
However, many people now are choosing to cut dairy out of their diets. Whether from vegan impulses or a belief that dairy is harmful to our bodies, more and more people are looking for workable alternatives to the standard dairy additions that feature in many smoothies. We're going to look at a few of the best stand-ins for dairy ingredients, and some of the ways that they can be used, including:
Grain substitutes

Non dairy milks and yoghurts

Fruit thickeners
Grains and Beans Offer a Cheap and Healthy Addition
More and more people are going the route of adding grains and beans to their smoothies. This practice has been in operation in parts of Asia for some time already. Anyone who's spent time in places like Malaysia and Thailand will be familiar with the beans added to various desserts and syrups to provide them with a greater depth and body.
These are a possible option for smoothies, but the need to soak and cook the beans, or simply chuck them in straight from the can, somewhat limits the options. A far better idea is the use of oats. Good quality steel cut oats can be easily liquidised in a blender, to thicken a smoothie while also providing a base of complex carbohydrates that is ideal for the day ahead.
One particular favourite comes from Hanoi's La Studio vegan cafe, which offers a stunning breakfast smoothie: oats, peanut butter, coconut milk, banana and coffee. It's hard to beat, especially given the strength of Vietnamese coffee.
Other recipes suggest adding black beans to your smoothies, in much the same way as with black bean brownies. Acai seeds are another favourite, popular for their thickening properties and health benefits.

There's a Huge Range of Non-Dairy Alternatives on Offer
When it comes to non-dairy options that can comfortable mimic dairy, we are happily living in a blessed age. Year on year, more and greater quality non-dairy products are finding their way onto supermarket shelves. If it's pleasure you're looking for from your smoothie, look no further than the addition of some high-quality vegan ice cream. Most supermarkets stock it, with many offering the Ben and Jerry's range.
Definitely not healthy, but a standout vegan addition to any smoothie. Coconut milk has long been another favourite. For some time, people were singing the praises of coconut oil as the ideal cooking medium. While the reality is that it contains little other than fat, coconut cream and milk remain a highly appealing addition to a smoothie.
There's also an added benefit that it can be conveniently stored indefinitely in tins. On the milk front, soy milk remains the go to, though its slightly chalky flavour could make it less than ideal for a smoothie. Health fans can try buckwheat, with its slightly nutty flavour. Or anyone looking to splash out can go for almond milk, the king of non-dairy milk.
Fruit Provides the Ideal Taste and Texture
Fruit thickeners have long been a standard in smoothies in general, but specifically in non-dairy smoothies. The ideal one is, unsurprisingly, the avocado. Avocados contain a higher proportion of fat than any other fruit, something fairly obvious to anyone who's ever tried to pull the stone out of an overripe one.
Avocados are ubiquitous today, though the quality is anything but guaranteed. Feeling around the top end should give you some idea of the quality of the fruit. Avocado smoothies have been a favourite in Southeast Asia for some time, and are prepared simply.
The fruit is just blended with some ice, lime juice and sugar, to create a smooth drink that is not for everyone due to the usual addition of condensed milk. Another great option is to add a banana to your smoothie. Bananas are high in potassium, and also have the ideal texture to blend in with a selection of berries and fruits.
They can thicken without adding excess fat. Tropical fruits are also a great choice, though it's not always easy to get hold of good quality ones. A good mango can blend down to a thick, rich pulp that adds a luxurious taste and texture to any smoothie. Meanwhile, with its bland but appealing flavour and colour, a good papaya can add texture while also providing you with a massive vitamin C boost.
These are just a few suggestions for how to enjoy non dairy smoothies. If you've already got a favourite recipe and are looking to refine it, the above ideas should put you on the path to creating your own ideal smoothie. Experiment with what's on hand, and learn to pick out good quality fruit, and you should have no problems expanding your smoothie repertoire.