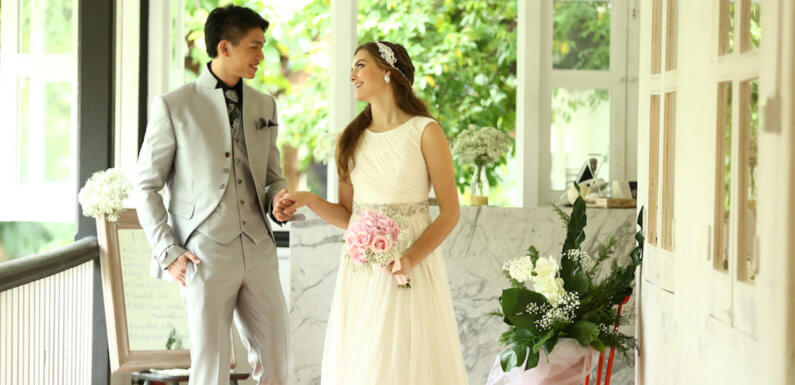 Celebrating the major milestones of human's life like engagement is itself a surreal experience for those thousands of couples, who realized that they are meant for each other. Engagement for a couple is not only just exchanging rings, it is more about giving a romantic signature piece to celebrate & cheer the unconditional love and unceasing bond between two souls. Thus, every couple chooses engagement ring made from precious stones and unique settings. With regards to this, Diamond is considered to be the most precious stone and thus diamond engagement ring has become an indispensable part of this custom.
The perfect diamond engagement ring can be achieved with the merge of well-cut diamond and a classic ring setting that complements each other. If go little deep in the anatomy of the ring, we can find that a basic ring comprises of two elements: one is Shank that is the body and another one is head, a metal that sets the diamond into place. The setting of the ring is not only meant for embellishing motive, but it also provides security to the diamond.
Thus, it is very important for you to understand all the nooks and crannies of the ring settings. So, stretching about this, today we will cover the few Engagement Ring Settings that can provide you with the detailed insight into the world of ring settings:
Prong Setting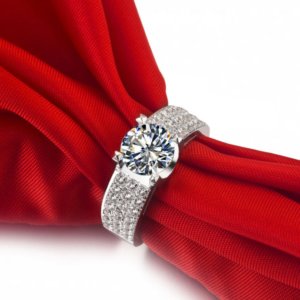 When you surf for popular Diamond Engagement Ring setting on Google, the most result you will get is for Prong Setting ring. This setting has gain immense popularity over decades and has never faded out from jewelry trend. This classic set of ring comprises little claws (either 4 or 6) that hold the diamond or center stone firmly. The prong setting basically varies on the shapes of the diamond. For instance, four or six prong setting is perfect for round cut brilliant diamond.
Benefits of Prong Setting:
Exudes center stone/diamond perfectly
Significantly reflect the stone's brilliance
Easy & quick to clean
Halo Setting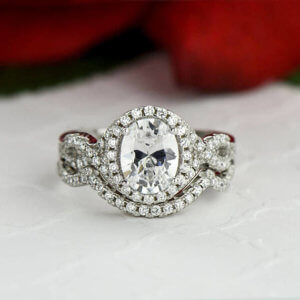 In Halo Ring Setting, center Diamond is encircled with the fine line of the micro size diamonds that offers a big diamond look. This setting is known for the budget-friendly feature that allows buyers to buy the elegant and gorgeous engagement ring without selling out an excess of cash. This setting works like killing two birds with the single stone. First, this ring setting is created in such a way that it represents small size stone as larger stone and secondly, it covers the largest area of your finger and seems like a giant ring that too without going heavy on your pocket.
Benefits of Halo Setting:
Ensure you with an unmatched level of brilliance
Cover more surface of your finger
Offer huge diamond look
Three Stone Rings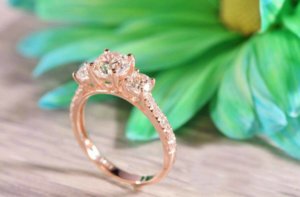 When it comes to celebrating the romantic relation and gifting something that can efficiently exude your love & sentiments, couples usually have faith in Three Stone Rings. It is so because this ring is considered as the true and valuable connotation that symbolizes the three phases of the couple's life – Past, Present, and future. In this classic setting, three stones either of same sizes or different sizes are set consecutively to one another in Center, Left, and Right. With this, a wearer can also customize the setting with colored gemstones as well. This ring is also considered as the perfect anniversary gift.
Benefits of Three Stone Ring:
Allow you to custom design your ring
Cover large surface of your ring
Ensure you with maximum brilliance
Channel Setting
If you want to carry the unmatched brilliance of diamonds on your finger, then Channel setting ring is perfectly meant for you. This set of ring exudes the fine row of diamonds settled side by side. Such elegant setting of the ring seems like a channel of white sparkling water that can really embellish your overall style. This awe-inspiring setting style goes well with the wedding or anniversary bands. Usually couples prefer Channel setting because it is the perfect connotation to epitomize harmony, love, and strong commitment.
Benefits of Channel Setting:
Offers complete security for your ring
Ensures you with complete stability
Offer complete security to diamonds
These were the few popular Engagement Ring Settings that will always rule in the jewelry world. If you are seeking a perfect engagement ring or a ring setting for your would-be bride or fiancé, then you should for sure consider her preferences and style. Along with this, don't forget to save your ring with the insurance to prevent yourself from common pitfalls. Discover the extensive array of premium-quality and certified Diamond Engagement Rings at Maharaja's Fine Jewelry & Gift.