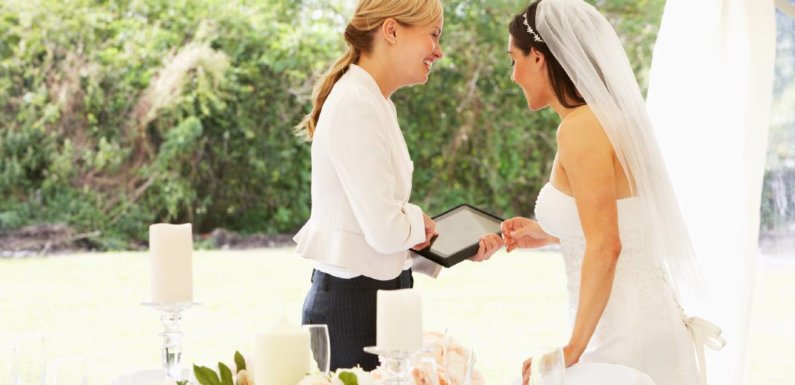 A great marriage isn't something that just happens…it's something that must be created!
So you're engaged to be married, and you're experiencing major nerves? But how about you sit back and enjoy this moment? Well, let a headache be taken by your wedding planners while you bask in the glory of this new beginning.
For an occasion which comes once in a lifetime, make sure you hire some industry experts who are reputed and professional in every sense. These people are a one-stop solution to plan your dream wedding in a simpler, faster & hassle-free way whether it's about finding a marriage hall to designing your wedding lehenga or sherwani combination.
Remember, on your special day, you and your guests can enjoy a grand event leaving with nothing to do but enjoy.
What will Wedding Planners do?
Tell them what to do, how you want it, where you want it, and when you want it – it is their job to take care of the rest. Everything from catering, decor, marriage hall, wedding dress, wedding theme, guest list, logistics, venues, photography, lighting, hospitality and entertainment – wedding planners can pack it all in and present you the best version you can imagine.
Most leading wedding planners today are thorough professionals and committed to working with only the best vendors and services in the market to ensure that the day is just the way you want it. All you have to do, as the bride or groom, is to sit back and your wedding planners run the show of your wedding.
How do they do it?
Make sure you select a wedding planner who has delivered fabulous wedding experiences over the decades and always poised to chart out a whole new growth story. Select a wedding planning company which has managed some of the most reputed weddings and has a trusted clientele throughout.
A good wedding planner will always create the perfect ambience for your once-in-a-lifetime special event by blending the best of traditional and modern elements with precise detailing. They will create customized experiences in the areas of guest entertainment and render an unforgettable experience for your esteemed guests. 
Most Leading Wedding Planners do:
Wedding Styling
Décor Design and Execution (design, fabrication, installation)
Destination Weddings Management
Weddings Entertainment Logistics Planning and Coordination
Special Events (Mehndi, Engagements, Sangeet, Wedding, Reception, Puja, Parties and Get-togethers)
Corporate Events
Film Premieres and Events
Things to look out for while selecting a Wedding Planner:
Passionate About What They Do
Professional wedding organizers know how much you have waited for this day and give their best to make it the most beautiful day of your life. They are responsive and take great joy in planning dream weddings.
Dedicated, Determined and Devoted
When you hire a good wedding planner, you avail a team of experienced and enthusiastic wedding management professionals who will leave no stone unturned to make your dream wedding come real.
Second to None When It Comes to Quality
Reputed wedding management professionals pay complete attention to every detail and deliver utmost quality. Right from the flower decoration to the seating arrangement, from wedding theme to menu, to deciding the lehenga colour combination, they do it exactly the way you want.
They Understand You
Right from helping you to select the marriage hall, wedding theme, catering, wedding lehenga to looking for vendors, approving designs to sitting arrangements – they find out all available options which include even the ones not well known, thus finding the best deal for you according to your needs.
Wedding Personalized for Each Couple
They help in personalizing your wedding by lining up trials, viewings, rehearsals and more, and let you make choices regarding your lehenga sherwani combination to deciding the marriage hall and just about everything. They also help you personalize your catering menu. They know how to create a dream wedding full of memorable moments that you and your spouse will treasure for years to come.
In-depth Experience
A leading wedding management company has vast and remarkable experience in organizing budget to extravagant weddings and other events. Such wedding planners ensure that your expectations are met within the given budget. As they have access to florists, bands and almost every service required for the wedding, they organize extravagant weddings and every other event within your budget.
Industry's Best Professionals
Most leading wedding entertainment and management professionals hold years of experience in this field. They have an eye for the best of everything and will bring it forth to your table. You only need to make choices from among the options that they provide you whether it's regarding the marriage hall, wedding lehenga or the lehenga color combination.
Unmatched Experts
They ensure you have a perfect wedding which is aesthetically planned with the expertise they hold in this field. They also ensure that the food on your big day is nothing but the best.
Good wedding planners will never let you feel stressed as they take care of the planning process using their creativity, insights and the wealth of their ideas. All you need to do is call them and leave the rest to them. And you can have a wedding day that you can cherish for a lifetime; your guests will have an experience that they will keep talking about even after years of your wedding.