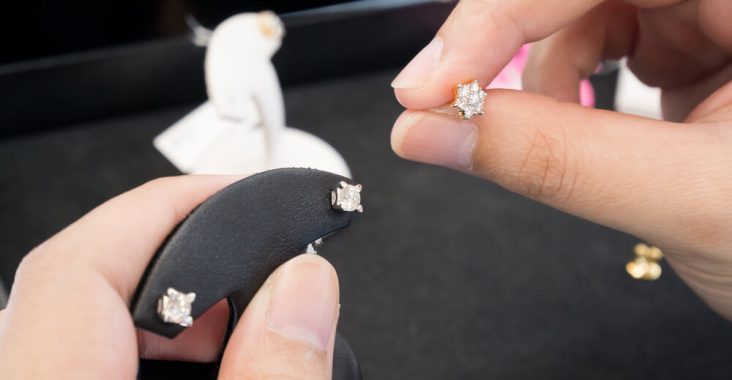 Diamond stud earrings are versatile accessories and a must-have in every woman's dresser. It is also perfect as a gift for a spouse, a friend or even a colleague. They have a timeless feel and this is why you always find them on the red carpet year in and year out. Stud earrings might be small but when properly styled, these earrings stand out and accentuate the strengths of your face. There are many reasons to buy these earrings, but finding a perfect pair of them is tough. You need to consider the style and preference of the wearer, choose a diamond shape, cut, color and best clarity, size of the precious stones and much more.
If you are planning to buy a pair of these beautiful earrings, this article will highlight the main factors you need to consider. This will make your shopping easier while ensuring you get value for the money you spend. Here you go:
Set A Budget And Stick To It
First things first; do not start your jewelry shopping without a budget. You have to decide how much you want to spend or else you will find yourself spending way above what you had in mind. If you want to buy quality diamond studs, you have to set your budget for a higher price. For instance, certified diamonds cost more, but allow you to confidently buy the best quality available.
Research about the 4C's of Diamonds
The all-important 4C's refer to a diamond's cut, color, carat weight and clarity. If you have no idea about these qualities, you will have a very hard time finding the best pair of diamond studs. The 4Cs' determine the value and pricing of the piece you are going to buy.
Cut: The cut of a diamond determines its brilliance and beauty
Color: diamonds of the highest value are colorless, rare and very expensive. On the GIA grading scale for color, the G-I range is an ideal for a good diamond color.
Clarity: Flawless diamonds are very rare and expensive. Most flaws are invisible to the eye and won't affect the beauty of the diamond. Clarity ranges from VS2-SI2 work perfectly.
Carat weight: Go for larger carat size depending on your budget. Heavier diamonds appear larger and are more visible. While earrings that have lower carat diamonds are lighter and smaller, any flaws in the diamond are hidden better.
These technical aspects of shopping for diamonds confuse most consumers. However, most established jewelers have sales representatives to help clarify matters. More importantly, they offer to buy guides on their websites to help the buyer.
Select the Right Diamond Shape for your Face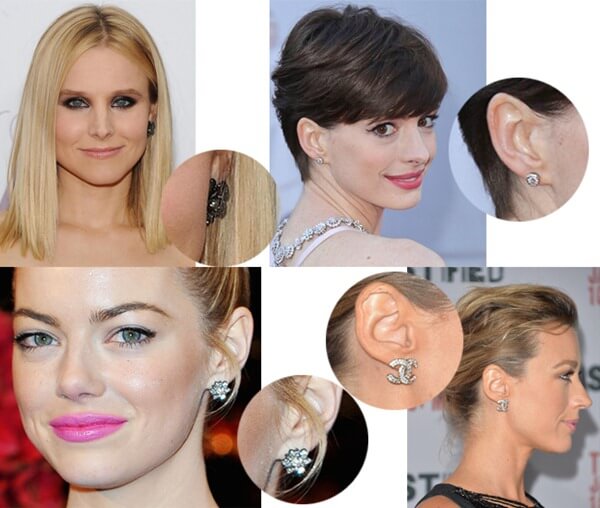 Whether you are buying your own earrings or you want to gift a pair of these beautiful pieces, you need to consider the shape of the diamond. You see, the shape of the diamond you choose must correspond to the shape of the face of the wearer.
Different diamond shapes work best with different face shapes. Here's how:
A broad face: Choosing a marquise cut, emerald or radiant cut would complement your face perfectly. These shapes give an illusion of length.
A thin face: You should consider symmetrical shapes such as princess cut, round cut, and Asscher cut that complement your face. Round diamonds are very popular as they can work with any face type.
Diamond Stud Settings/Styles
One of the best things about diamond studs is their versatility in terms of styling. You can play around with different settings and styles to get an amazing pair of earrings. Among the styles to consider are:
Prong Martini Style Diamond Stud: An evergreen earrings style that is simple yet elegant.
Bezel set diamond studs: Popular due to the security they offer to the diamonds. They are more expensive due to the workmanship required to set the diamonds properly.
Halo designs: These give the studs a dash of style and make the stones look larger. This setting entails arranging smaller diamonds around a larger center stone.
Floral Stud Earrings: Ideal for those who love nature and appreciate artistic styles.
Love knot earrings: Unique earrings that are perfect as a gift for a spouse.
There are other styles that you can choose from. These include push-back earrings which are easier to use, basket-style settings for more ornate studs and crown-style setting for enhanced diamond security. Take time to look at images of these diamond studs and ask your jeweler about their different features.
Select the Right Metal for the Setting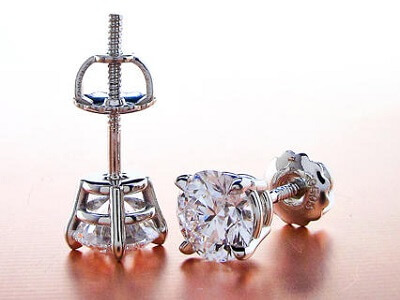 There are a variety of metals you can choose for your earring's setting. These include:
Platinum: a metal that is highly popular due to its durability. However, it is an expensive metal.
Yellow/white gold: that contrasts perfectly with darker skin and hair.
Sterling silver is affordable and brilliant but prone to tarnishing.
White gold: a metal alloy that is more durable than yellow gold, yet cheaper than platinum.
If you are allergic to nickel, be wary of white gold earrings as they might contain nickel and other metals that can cause allergic reactions.
Diamond Certification
When shopping for diamond studs, make sure you look for diamond certification from third parties. Look out for GIA or AGSL certificates if you are buying loose diamonds to create your earrings.
Of course, there are many other things to consider when buying diamond stud earrings. For instance, you need to identify a reliable jeweler through referrals, recommendations, reviews and testimonials. Whatever you do, never rush into buying the first pair of diamond studs you see. If you are buying a gift, consider the lifestyle and taste of the wearer. Take time to learn more about diamonds and do what it takes to stick to your budget.