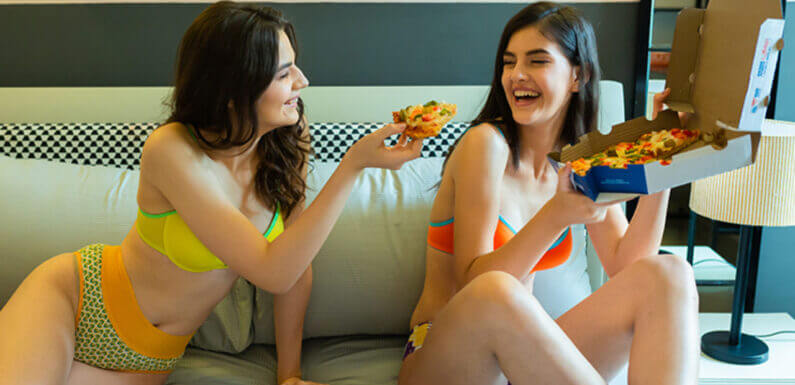 Lingerie shopping can be an overwhelming experience. There are so many different styles, colors, and patterns to choose from. The one thing you want to avoid is picking the wrong set for your body shape, because you'll never feel confident in it! Here are some tips on what to look for when picking lingerie that's perfect for you.
Lingerie For Hourglass Body Type
Generally, a woman with an hourglass body type has a smaller waist, a fuller bust, and curvy hips. If you're looking for something that can complement your shape, this tip will be perfect for you.
To start off with the underwear, high-waisted briefs are perfect because they offer support in all the right places and help balance out your curves. If you want to add some lace to your look, try a bra with lace or a pattern that matches your panties. You can also wear a matching bra and panty set, if you want to have a uniform look all over.
Image: Pixabay
Lingerie For Triangle Body Type
Looking for lingerie for women with a triangle body type has always been challenging. It is often hard to find the right cuts and fit of garments that match your shape. The lingerie available is often not designed for this body type.
The following tips will show you how to buy lingerie if you have a triangular body type:
1) Choose bras with wide straps that can help distribute weight more evenly across the shoulders. This will help reduce the strain on your neck and back.
2) Avoid bras with underwire, as they can cause discomfort or pain, especially if they are too tight or poorly designed for your body type.
3) Choose bras with wide-set straps, so they won't fall off your shoulders, as well as bras with wide-set cups so they will be more comfortable on your chest area. These will also help reduce the risk of getting pinched or poked by the underwire.
4) Make sure your bra doesn't have too much fabric inside the cups. It should be just enough to achieve support but not so much that it can cause discomfort or pain in any way.
Lingerie For Rectangle Body Type
If you're a woman with a rectangle body shape, you know how hard it can be to find lingerie that fits your bust and hips. Many stores only carry bras and panties in one size, but women with a rectangular body type need more than one size of both. Luckily, there are some tips on how to find the right lingerie for your shape:
1) Look for bras and panties that come in different sizes and styles.
2) Check the customer reviews for each bra to find out which style might work best for your body type.
3) Wear cotton or silk underwear to prevent chafing and discomfort.
4) Keep in mind that your lingerie size will change with your menstrual cycle, so buy bras that fit you at the largest point of your cycle.
Lingerie For Inverted Triangle Body Type
Inverted triangles have a tight upper body with wider hips. When it comes to lingerie, inverted triangles should look for bras that match the width of their hips. This can be accomplished by looking for a bra with a wider band size. Bras that offer a wider underwire may also work well. When you find the right lingerie, you'll be so confident, you can participate in a bikini contest as well.
Image: Pixabay
Lingerie For Round Body Type
The best way to buy lingerie for a round body type is to avoid underwire bras, which can create the appearance of more back fat. Instead, opt for soft-cup bras or bras with thin bands. You may want to try wearing a jacket or blazer over your outfit if you are worried about bulges. Avoid bras that are very tight around the bust as you will be uncomfortable all day long.
It's hard to find lingerie that is comfortable, flattering, and sexy when you don't know what your specific body type is. Once you understand your body, not only will you be able to pick the perfect pieces of lingerie, but you'll feel more confident flaunting it too. Today, there are various lingerie companies that create lingerie specific to your body type. Make sure you explore these options, so you can invest in something your body loves just as much as you do.