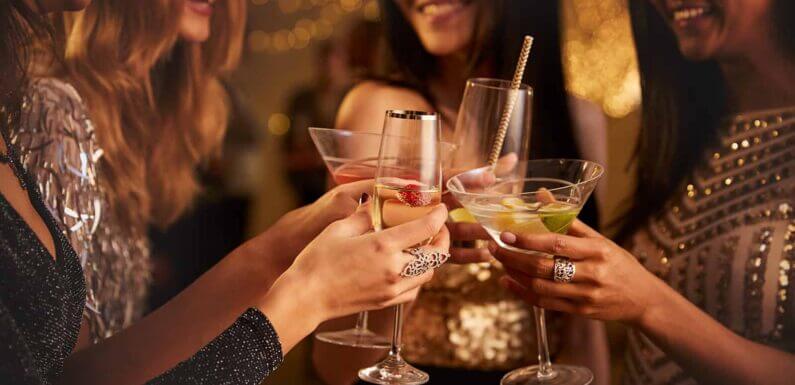 As the weather turns colder, cocktail fashion takes a turn for the cozier fabrics and fuller coverage. But that doesn't mean that winter cocktail dresses compromise on style—the best cocktail dresses for winter strike a balance with classy comfort. An off-the-shoulder dress with long sleeves and a short hemline is reminiscent of a winter sweater. And a classic black dress with an overstated neckline and touch of fur accessories is a great way to dress up a classic piece.
Things to Consider When Choosing your Outfit
Before you fall in love with a dress, stop and think about what dresses might be appropriate for a winter event. If you're attending a wedding, the invitation should indicate the attire requirements. In most cases, unless otherwise stated, a cocktail dress is appropriate for a winter wedding. Here's what to look for:
Darker Colors
The colder weather brings trends of darker hues. Reds turn to deep burgundy, and blues turn to navy. It's something that we've come to expect, but there is actually a little science behind it. Dark colors absorb more heat, keeping us toasty as the temperatures dip. While you would never want to upstage the bride by wearing white to a wedding, pastels and lighter shades will stand out like a sore thumb when everyone else is wearing black, navy, and burgundy.
Fabric Choice
There are a few heavier-weight fabrics that are reserved for the winter months. And that's good news because heavier fabrics will help keep you warm. Consider embracing velvet, cashmere, chenille, and other rich fabrics that are a little too thick for year-round enjoyment. If you're attending near the holidays, you may even be able to get away with a classy plaid print.
Style
There are no hard-and-fast rules by season for style. But there are some styles that work better than others in the winter. Long sleeve dresses are the most common in the winter months. Many winter cocktail dresses balance this with a shorter skirt length or by detailing the sleeves with lace fabrics. You can also take the colder weather as an opportunity to choose a cowl or turtleneck dress.
Knowing How to Layer
Winter weather is another opportunity to add visual interest by layering. At a minimum, you'll need to find a winter coat that goes with your gown. But don't let your stylistic creativity stop there. Start with the dress first, and then go for a layer underneath with tights or stockings. In the winter, we love a thicker denier. Consider wearing black tights instead of nude colors to dial up the intensity of your ensemble. Next, go on top with a fur shawl or leather jacket.
Traditional cocktail necklines that are a little bit more revealing can be layered with sheer fabrics to add higher necklines and longer sleeves. Consider a solid sleeveless sheath dress in a rich, deep hue like burgundy, topped with a sheer embroidered cloak with long sleeves.
Picking the Best Shoes and Accessories
Most dress shoes feature open toes, which don't pair well with snow on the ground. For winter events, we have to think a little outside the box for footwear. A high-end pair of velvet ankle boots can be just as classy as rhinestone-studded heels. For shorter dress lengths, we love the chic, city look of tall boots with stiletto heels.
When it comes to jewelry, choose one statement piece based on your gown—chandelier earrings or a bib necklace—not both. If your dress has a high neckline, earrings are the better choice. You can complement them with a coordinating bangle bracelet. For plunging necklines, go with a necklace and stud earrings.
Winter events also require a formal coat. You probably can't get away with wearing your daily coat to a formal event. We generally recommend sticking with leather, fur, or wool coat in the same length as your dress. A felt hat and a high-end wool scarf or leather gloves finish the look.
Practical Style Tips for Winter Dresses
If you love the look of lace, the best way to wear it in the winter is as an accent. The openwork of lace fabric is more than a little breezy. Consider a heavy satin, full-length dress with a sleeveless neckline paired with a long-sleeve embroidered lace shrug. Or, opt for a shorter dress with lace trim and pair it with knee-high leather booths and a cozy wool shawl coat.
If you're dying to wear a floral print, go for something dark and bold. A short hemline with long sleeves over opaque black tights and black velvet ankle booties can be a classy winter look. Pair this ensemble with a short leather jacket that coordinates with your dress colors.
Class-up the trench coat look with a belt for a classic look. Imagine a bold dark blue sheath dress with an embellished bib necklace and an ivory wool trench coat belted around the waist. Pair your ensemble with a pair of lively, animal-print heels.
Repurpose a striped summer dress, something nautical like navy and white stripes, with opaque tights and tall boots. Finish the look with a shawl or shrug. An embellished cardigan with intricate beading can also change the look and feel of your dress.
Final Thoughts on the Best Way to Wear a Winter Cocktail Dress
The winter weather might drive us indoors, but it doesn't stop the social calendar. In fact, the holiday season can be a big reason to dress up. Make sure that you show up in style with the right look. Darker colors, heavier fabrics, and a chance to wear 'winter-only accessories are a great opportunity to showcase your style. Just keep in mind that you will want to keep from shivering all night long. It's a good idea to add a few layers that you can dress up or dress down once you arrive. If you have a fur coat or accessory hiding in your closet, 'tis the season to bring it out.
About Author
Jonah Levine is the Creative Director of TheDressWarehouse.com. TheDressWarehouse was launched in 2018 as the go-to online source for amazing designer dresses at affordable prices. With 10 years experience in the industry, Jonah works daily to scour the markets to find the hottest styles and to negotiate the best prices for special occasion wear on the internet.