You may know about buffet catering services that you can hire for your domestic or corporate event. However, before hiring such services you must know about mini buffet catering. These mini buffet catering services can be hired for various events. Many corporate offices are availing these services for corporate events. Mini buffet catering services provide disposable trays, cutlery, napkins and cups.
If you want to arrange your party in a small place, then mini buffet catering system is perfect for you. You do not need to set up large tables and still, your guests can easily have their foods and dispose of the cutlery items in the bins. Especially, the mini buffet system is suitable for small parties, and they are cost effective too.
So now you do not need to book any party venue as you can simply decorate your small garden area and hire the mini buffet caterer to arrange your party. Even if you do not have sufficient garden space then you can conduct your party on the terrace also.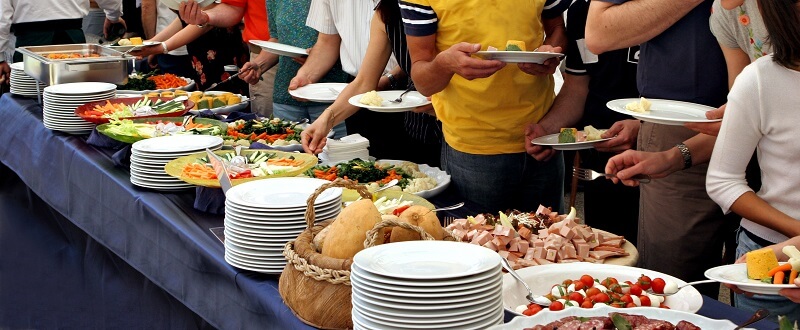 What are the benefits of mini buffet catering services?
With the mini buffet catering services, you can arrange your party within a small space, and you do not need to arrange many tables, chairs, sofas and furniture in your party hall. Apart from that, these caterers always use disposable items, and you do not need to pay any extra money for cutlery washing and cleaning.
It is true that most of the caterers have their own team to execute such tasks, the damage costs will be charged to you at the end. So, to reduce this damage cost you can avail the mini buffet services.
To arrange a successful party, you need to include many food varieties in your menu. Some of your guests can have some religious restriction, allergic reactions and digestive problems and some of them may be vegetarians only. So, you need to include all types of food for types of your guests and in this case, a buffet catering service is the only choice for you. They will design separate stalls for your guests and hang the placard on their stalls as vegetarian, non-vegetarian, snacks corner and beverages.
Mini buffet catering services can also provide the take-away facility to your guests and if your guests do not want to have their meals at your party venue, they can pack their foods with disposable boxes. These disposable boxes and cutlery items are designed with high-quality food grained materials and they are eco-friendly too.
Buffet catering services can always save your overall cost because they help you to select the best food combination and they also help reduce your damage cost. Even your guests can communicate and socialize with others in your party event, with the help of buffet catering, because they do not need to wait for their table and they can easily mix with the crowd and have their meals with others.
How would you choose the mini buffet catering services?
If you want to conduct a small birthday party or anniversary party, then you can easily hire your food joint or restaurant to serve as mini buffet caterer. Also, you can hire a specialized mini buffet catering service. You can search them online as well and choose the most affordable one for your party.
Most of them are listed on the online portals with their specialized dishes and prices. Apart from that, you can also read their customer reviews from these portals and choose the best caterer for your event.