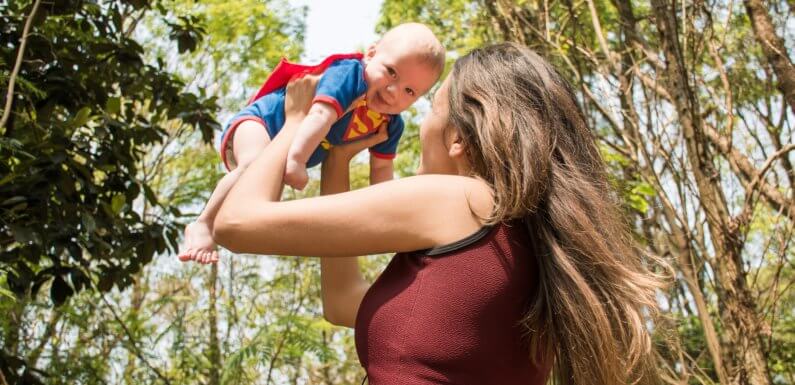 Most of us thought about being a superhero at some point in our lives. Being able to fly to school or work and avoid traffic jams, bring justice to those in need, and impress people with our super strength would be pretty sweet. But what is being a superhero really about? Superspeed, invisibility, quick healing and super strength are superpowers we see in comics and films. However, being a superhero is more than that. Bravery, morality, and perseverance are also an inseparable part of the superhero's character.
They are also traits that we normal humans can cultivate. If you thought that all these can only be seen in theatres, think twice. Mothers are living proof that ordinary people can be superheroes too. Previously mentioned superpowers aren't that far removed from what being a mother is like. Moms are superheroes and while there is a whole list of their superpowers, below are just five reasons that prove that fact.
1. Courageousness
If we were to describe moms using only one adjective, it would definitely be brave. This virtue is embodied in many superhero characters and it's also a trait a normal human can and should cultivate. Moms are perfect examples of that. Whether it is shielding their little one during the storm or sending them away from home for the first time, it takes courage to deal with everything that motherhood brings. Some people think that the bravery is something you are born with, a superpower that only the privileged few are blessed with. The truth is, it is a skill you cultivate by acting in spite of the fear.
2. The Power of Multitasking
Changing diapers and cooking lunch while on a conference call or folding laundry while helping the kids solve a Math problem, one thing is certain – no one can multi-task like a mom. Doing many things at once is not easy, but moms have become the definition of it. They do it with such ease, it makes us wonder if they indeed have superpowers we know nothing of. The good news is – you can do it too. A powerful imagination plus willpower can create almost anything.
3. Safety first
Whether it's Batman saving Gotham city, or Superman saving humanity, or Mom saving the day, every day, we need our superheroes. They teach us how to care for those we love and how to protect them in every way we can. In a world where the number of car accidents is constantly on the rise, the safety of our children is extremely important. The best way to do that is to correctly restrain them in car seats when taking them on any kind of journey. They are convenient and absolutely necessary. Consequently, protecting your child is not only the act of great love but it also sets the example for the children since they always learn from their elders.
4. She's Got Your Back
Whether you're sick, hungry, mid-breakup or just need a ride, Mom will always be there for you. She will always be on your side, even when you feel that the whole world is against you. No matter how angry you make her, or how tired she is, you can always rely on your mom to help you pull through. She'll always be your biggest cheerleader. Just like a superhero, she's the one that will pick you up when you're down. Her kisses and warm hugs will heal everything from skinned knee to a broken heart. Is it magic or a superpower? Maybe a little bit of both.  
5. Resilience
What do Wolverine and Mom have in common? The ability to get up after being knocked down. Putting themselves back together after being torn apart is another superhero trait that moms have. They work hard to be superheroes all the time. Juggling school, practice, meals, work, homework, playtime, and housework can leave them drained. Managing to get things done on time, they never seem to rest. Being under the pressure to be super all the time, moms sometimes may inevitably feel like they're crashing. However, even if they feel exhausted or hurt, it will never affect their strength and motivation.
Dear Moms, take a break from your superhero work and indulge in self-care a bit more often. Take time for yourself and don't feel guilty about it. A few minutes will be enough to just relax. Enjoy in a little nap or the extra long shower. Revive your energy, you feel better and your family will thank you.
Mother's Day is not the only day we should thank our mothers for all the things they do for us. They can feel that sometimes their work goes unseen, so make it a habit to tell them how much you appreciate it. They also need love and support, just like all the other superheroes do. For you, they will overcome their fears, fight the world and never stop loving you, no matter what you do. They just want us happy. So whether it's just a hug or a simple "I love you" – show your Mom that you care for her.