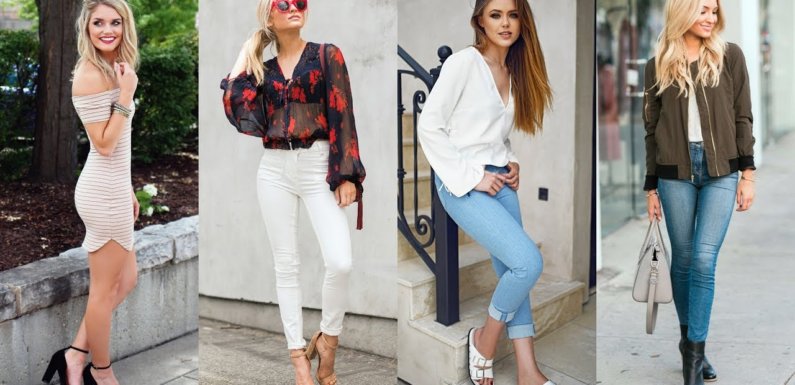 If you-re into fashion and get excited by the latest trends coming straight from the runways, nows the time to plan your next purchases. You don't have to go bankrupt to follow the trends. You just need to learn how to mix and match and learn the specifics.
Now, let's move on to the list of 6 curated outfits of the day, aka the OOTD. Each one is perfect for a particular occasion and you'll definitely get all the compliments.
Springtime coffee date with friends
For this lovely occasion, you'll want to be both stylish and comfortable. This season is still about the pleated skirts. You should definitely find one that fits your height perfectly. Choose between knee-length or mid-calf. It's great that we'll still be seeing pleated skirts everywhere. These are easily combined with puff sleeve blouses, turtlenecks, and regular white shirts.
If you already have a pleated skirt in your wardrobe, spruce it up with a marigold top. Marigold can be defined as a dash of gold added to the mustard color. It will be a nice way to elevate a black skirt.
Just another day at the office
Days at the office are great for something elegant, stylish and comfortable. Since work hours can sometimes end with a happy hour at your favorite cafe, always wear something that can be easily transitioned from the office to the night in town. It seems like suits will be all the rage this year as well, so enrich your wardrobe with a nice fitted suit. f
You can go for a full suit, or just a blazer paired with a shirt, pair of jeans and some loafers. A nice monochrome suit in beige or buttercup yellow will be less boring with some details like a collar necklace or even an XXL bag as seen on the runways.
Casual walk by the seaside
Even if you're still not thinking about your summer vacation, you can get familiar with the pieces that are stylish and trendy. When it comes to the swimsuits, the best way to pick one is not by following trends. You should just pick a model that is ideal for your body type.
Flame scarlet red, coral pink, saffron, faded denim blue hue or a pistachio green will be everywhere so you can take these into consideration while picking your swimsuit. For a casual beach stroll, you'll need something to cover up so browse some beautiful sarongs online and find your perfect fit. This is a must-have because you can tie it up differently every time.
Dinner date
Now, for a romantic night out, you have to pick something stylish and classy as well as comfortable. This is the perfect occasion for ruffles. You can go for a stylish ruffle dress and some stilettos. If you feel like this look is too bold for you, pick a ruffled blouse instead and pair it up with a tight-fitting denim skirt.
Denim skirts, both midi, and maxi are in this season especially if they are the light blue shade. Or, pair it up with a soft leather skirt, because you simply have to have one leather skirt in your arsenal this season.
Stylish movie night
For this occasion, you can take out your pair of favorite jeans combined with a polka dot shirt and an oversized blazer. Oversized blazers will be everywhere, so it's only fair that you still cling onto your favorite one.
We've seen polka dots emerge as a trend in 2019, but they will come out in full bloom in 2020 as well. Black polka dots on white, or white polka dots on black, are definitely the classic version of this trend. You won't go wrong with either one of them.
Evening Sunday stroll
An evening stroll on a Sunday is perfect for a long or midi knitted dresses. They can keep you warm on a chilly evening night. These will still go well with your favorite pair of sneakers or comfy ankle boots. You can add a rope belt or something similar to cinch it at the waist and accentuate your figure.

This list will come in handy if you're planning to put a few additions to your wardrobe. There are many styles to choose from so pick the one that suits you. If it makes you feel like a million dollars, it's the perfect one.