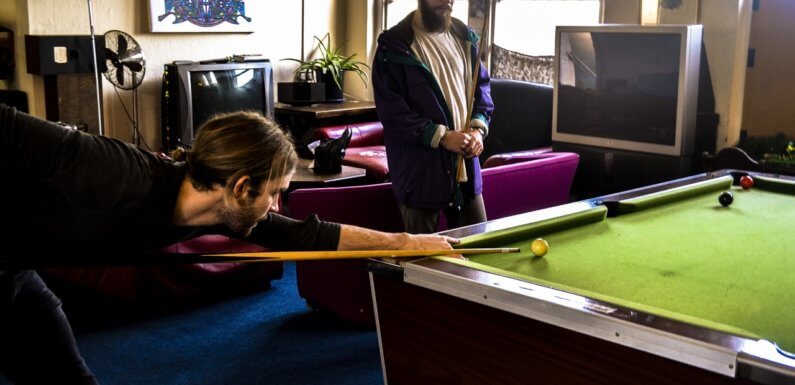 From time to time, every man needs a retreat away from his kids, his spouse, and his work, and this is simply a natural urge. A distinct hideaway from the rest of house, conducive to some peaceful beer-drinking or maybe cozy book-reading, can help any man escape from the daily chaos and recharge his batteries. This man cave has become a sacred space in many homes today, reserved for some traditionally masculine activities as well as for hanging out with friends or some quality alone time. To build your own ideal man cave, here are the essentials that you'll need.
Entertainment gadgets
One of the main functions of a man cave is a unique and personalized entertainment playground. Investing in high-tech gadgets, including a high-quality TV, sound system and the latest video game consoles is an absolute necessity if you've decided to turn your garage into the perfect man cave. When it comes to the TV, the bigger the better. A big-screen TV in front of a comfortable couch will act as the focal point of the space, either for watching a World Cup game or playing Red Dead Redemption with the guys. On the other hand, depending on your preferences, a 3D flat-screen TV can be replaced with a more sophisticated retreat for friends to gather and listen to records.
Pool and poker tables
The staples of almost every known man cave: a pool table and a poker table. But, guess what – this can actually be one item. Transforming a good old pool table into a perfect poker table for every poker night is a modern caveman's dream. Plus, never forget to revive the good old college days and use this multi-functional item for a beer pong tournament.
Necessary appliances
It's hardly necessary to explain why you need a beer cooler. However, you should also get a stylish Viking range. You guys will most probably get super hungry while watching the game or you might even want to host a fancy dinner party and having a high-quality range will allow you to show off your culinary skills.
Fan-inspired decorations
A man cave-type of guy is almost always a hard-core sports fan, and what better place to show off this loyal devotion than a man cave wall? A signed jersey or a collection of baseballs are expected to be found at this kind of shelter. On the other hand, a guitar in the corner, a nice painting or a classic movie poster on the wall will make a home out of the cave for the more art-oriented type of guys. Alternatively, you may even be into mechanics, architecture or travel, so you can opt for an oversized blueprint or a vintage map to grace your walls. The kind of interest you decide to display will also add a unique personal touch to your space.  
A sophisticated bookshelf
Hanging out with boys, playing video games, getting drunk and blasting music is more than great, but that's not all the man cave can serve for. A grown man needs a well-curated library to dedicate some time to during those nights when there's no sports game on, or when he finds some time off from friends and family to dedicate to quiet and meditative reading. Additionally, a bookshelf with a collection of cultured novels, magazines and souvenirs will increase the level of sophistication of your space and allow your guests to casually browse through your collection. Finally, it may even encourage stimulating discussions based on some of those items.
Dark-colored interior design
It's not called a cave only for its hard-core masculine aspect. Using dark colors for the furniture and wall paint will limit the amount of light in the room, adding to the sense of escaping and being in an actual cave. Since basements and garages – which are the areas that are most commonly turned into man caves – tend to be dark, you can bring in a stylish touch with pendant lights. Of course, aside from the aesthetics, you should also aim at comfort since this should be the place where you'll be spending your free time in as relaxed and casual a way as possible. The couch is the most important piece of furniture, so don't compromise and go for a high-quality piece to stretch out and relax on while you're watching a Sunday night movie with your best buddies.  
Take pride in your man retreat, and make sure to put some solid time and effort in building it. Include the objects you need to unwind and items that will speak to you and for you – and you'll have the ultimate indoor modern man cave.