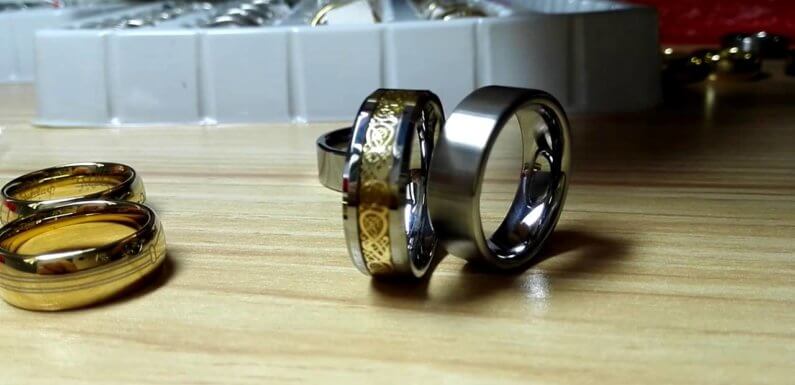 Tungsten when used for wedding bands designed for men often offer a sleek and contemporary style available at reasonable prices. Now, before we go ahead and analyze the applications of tungsten rings, let's understand what this material is. Tungsten is usually comprised of the chemical element named Wolfram that houses some of the most amazing properties. Among all popular metals available in the market, tungsten melts at one of the highest temperatures with high tensile strength. It houses extreme durability with a sense of rarity in occurrence.
What are Tungsten wedding bands made up of?
Even though it is termed as Tungsten, the wedding bands aren't made from the same. They are crafted from the Tungsten carbide mixture. The pure form of tungsten is rather difficult for one to craft properly. This is why when used in jewelry such as cubic zirconia tungsten rings for men; it is mostly compounded into the carbide form. The creation of tungsten carbide requires fine binding of an equal amount of and tungsten atoms.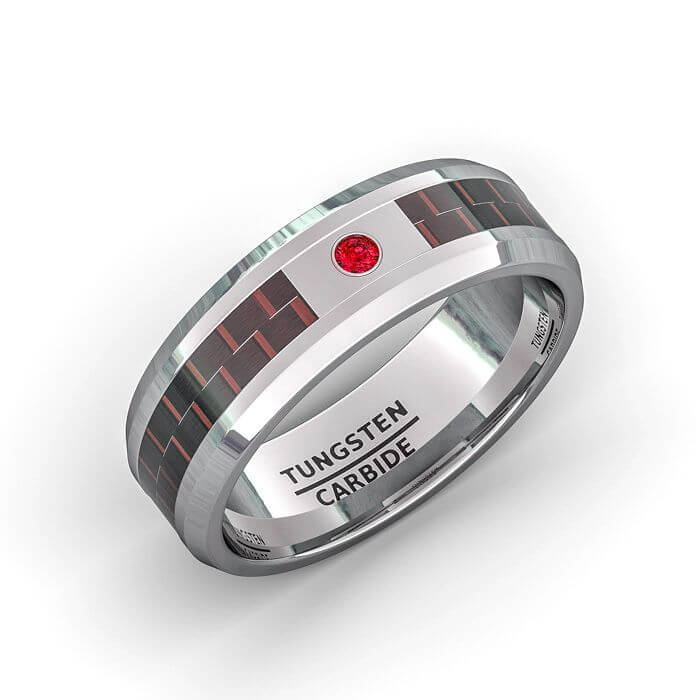 How to pick the perfect Tungsten Carbide wedding rings for men?
Top notch tungsten wedding rings are generally crafted with the jewelry grade material that is compounded with nickel binder. While there have been certain cases of gold alloys present in nickel causing allergies, but the stances are very rare. This is because the percentage of nickel that is present in the tungsten carbide can be deemed towards the low level. Additionally, it is bonded in a compact form with other atoms which minimizes the chances for any allergy risks.
What are Black Tungsten based Rings?
Black is a classic color that never loses its grace and charm. It looks best for men as well as women. The black colored option can be great if you have been searching for unique men's tungsten wedding rings. Most of the black colored tungsten rings are usually crafted with another plate that is placed over natural gray tungsten. So if you want to look unique at your wedding with a beautiful color that is adored by all, you can surely go for the black rings.
Do tungsten wedding rings reflect brittleness?
After people started opting for this new entry in the market of jewelry crafting, forums catering tungsten wedding rings have been flooded with questions that ask about the material's durability and longevity. This is mostly because it is used for wedding rings and anything related to wedding need to last a lifetime creating beautiful memories.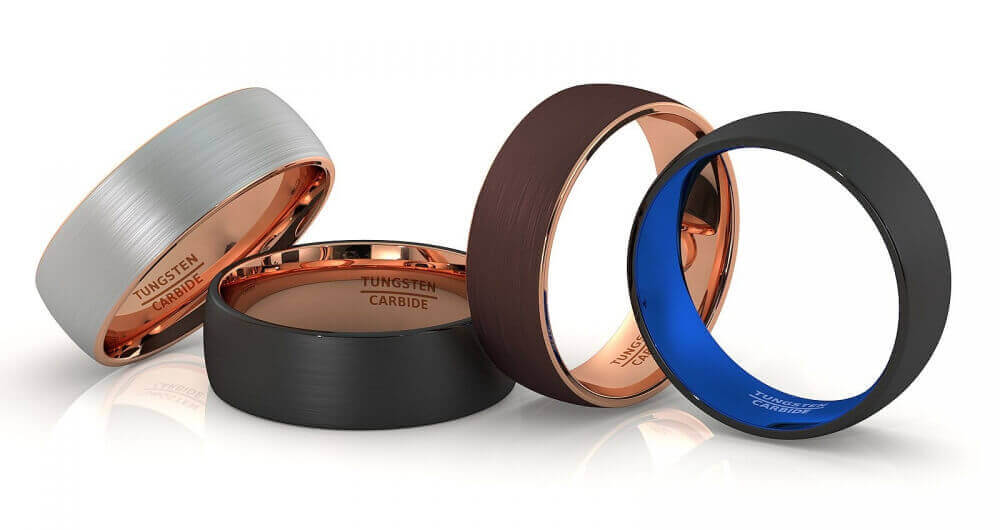 To this, the answer is yes. Tungsten carbide comes with extreme durability which is even more durable when compared with elements such as palladium, gold, platinum, or silver. To top it all, it has high resistance against scratches. However, it does possess some brittleness. This means, with enough pressure, the wedding rings crafted from tungsten carbide can break or crack. It does not bend like other elements such as platinum or gold.
However, there is no need to worry when opting for these rings for your wedding. Tungsten wedding rings are extremely durable, and unless a very strong force acts upon it, the material doesn't break. Given the fact that tungsten comes with such amazing properties, many sellers often provide a lifetime warranty for the rings out of confidence.
Why is tungsten popular amidst the modern generation of men?
We often think that it is women who are picky about what they wear regarding jewelry. However, men can be equally picky, especially when it's about their wedding ring. Tungsten is often the more popular choice among men going to get married. Tungsten comes with several properties such as scratch resistance, ample scope for styling, variable finishes, mirror finish, affordability, and durability due to which it is one of the popular choices among men.
Among the popular styles opted by men are the flat bands, comfort fit, diamond fitted channel set tungsten rings, brushed layer rings. So before you hop off to the nearest shop to purchase your wedding ring, remember the fact that tungsten rings are for life, so pick the one that suits all your moods, clothes, and fashion seasons. Always pick the retailers who provide a warranty for a lifetime.
The main reasons & features behind the rising popularity of tungsten rings are:
Tungsten rings have looks new throughout the live.
It's made up with the carbon atoms that has all the properties that make great jewellery.
Tungsten Rings are so hard than other metal rings.
It is highly affordable in rate.
Tungsten rings appearance resembles the platinum metal