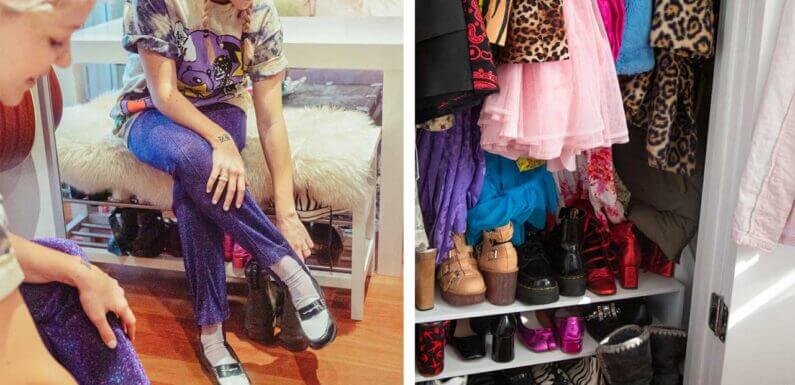 It's no secret that shoes can cause some major clutter! Even if you have plenty of space, a mountain of footwear can be unsightly in your home. Fortunately, there are ways to keep your collection stored neatly and out of sight with minimal effort.
Besides looking cleaner, a well-organized shoe collection makes it easier to find the perfect pair for any occasion. Follow these eight tips to maximize your space.
1. Start by Categorizing Your Shoes
Before you decide on a storage solution, start by dividing your shoes into various categories, so you can store them most efficiently. First, separate the shoes you wear most frequently from the rest. That way you can utilize your most convenient storage spaces for the shoes you reach for most often.
For example, your winter boots, summer sandals, special occasion stilettos, and other once-in-a-while shoes can be stored in the back, top shelf of your closet, while your everyday sneakers, casual boots, and office flats can be stored somewhere that's easier to reach.
Once you've categorized your footwear by frequency of wear, go a step further and separate your frequently worn shoes by categories such as athletic, casual, and formal. That way, when it's time to get dressed, you know exactly where to find the perfect pair. You can also arrange them by season, so you can rotate them out as the weather changes.
2. Repurpose Unused Furniture
If you don't have a lot of closet space, repurposing a shelf or cabinet is a great way to stay organized while making use of an unused piece of furniture. Of course, you probably don't want to store your sneakers in the kitchen pantry, but feel free to get creative with it! That old bookshelf that's collecting dust could be perfect for storing your shoes vertically!
3. Consider a Closet Caddy
An over-the-door shoe organizer takes up almost no space, and many of them can hold a whole lot of shoes. These organizers are only useful for lightweight shoes, so they probably won't fit everything in your collection. That said, you can free up a lot of closet space for your heavier boots and heels, naturally making your shoe mountain more manageable!
4. Store Tall Boots Upright
In the world of women's fashion, few looks are as bold and chic as knee or even thigh-high boots. The problem is that they tend to lean over, causing the boots to crease while also hogging valuable closet real estate.
A simple trick is to stuff them with acid-free tissue paper so they stand upright. Avoid newspapers, as they can cause discolouration. Not only will this keep your boots in pristine condition, but you'll be able to store multiple pairs side-by-side, and even the tallest boots will only take up as much horizontal space as any other type of women's footwear.
5. Designate a Spot for Your Go-To Shoes
Most people don't want to have to remove their shoes and carry them to the closet every time they get home from running a quick errand. Designate a small area by the front door for storing a few pairs of the shoes you wear most often. You could place a shoe mat in the area, or even a small shoe storage bench would be a great choice to keep shoes both accessible and organized.
6. Save, Stack, and Label Your Shoeboxes
There's a high probability that you don't have all of your old shoeboxes. However, in the future you may want to consider saving them so you have a convenient, stackable solution. This method works especially well if you have a high shelf in your closet.
If you own a lot of shoes, label the front of the boxes so you don't have to sift through them when you feel like wearing them. You could even tape photos of each shoe to the boxes to really add that special organizational touch.
7. Clean Them Before Storing
Never store dirty shoes! Besides dirtying up your space, dirty shoes can degrade over time. While you don't necessarily need to polish them until they're pristine, a quick brushing goes a long way.
8. Get Rid of Unworn Footwear
The best storage solution is to remove them from your life entirely! If you haven't worn a pair of shoes in over a year, there's a high chance that it's time to bid them farewell. Donating or selling unworn shoes will free up a significant amount of space, and that's what this is all about, right?
Shoe collections are only going to keep getting bigger and bigger over time if you don't rotate the old ones out of the picture, so try not to get too attached to the shoes that no longer inspire joy. If nothing else, cleaning out your collection is an excuse to treat yourself to something new!