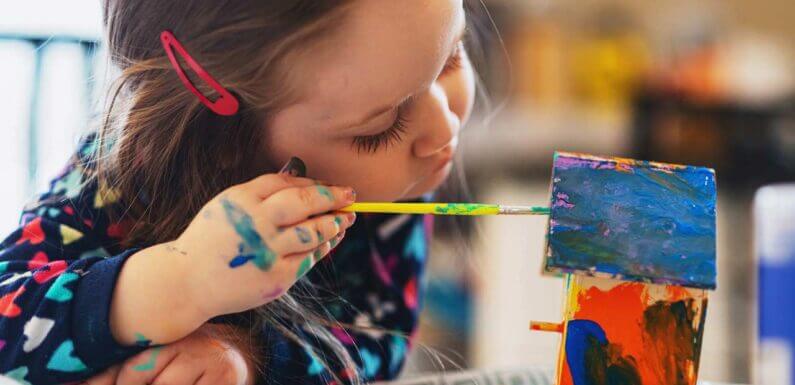 Handmade gifts are incredibly special, especially when made by children. Store-bought gifts can be great if you're in a time crunch, but when we take the time to allow our kids to make gifts for friends and family, we can enjoy the value of an affordable gift crafted with care and deep meaning.
It's a win on all counts! Let's take a look at 5 handmade gift ideas kids can make at home
Cozy Quilts
If your kids are interested in sewing and design, a cozy quilt might be the perfect handmade gift for them to create. Just like adults, kids enjoy having an element of control. Let them express their creativity by allowing them to choose their very own pattern and fabric designs!
Don't worry—this process doesn't have to be a headache for you. You can purchase easy-to-use quilt kits to ensure your child has all of the materials they need! Some quilt kits offer precut fabric by the yard, so your child can cut out their own shapes for the pattern, while there are some ready-to-sew kits that include precut fabric shapes so you don't have to do any of the cutting yourself!
Artistic Dishware
While quilt kits may be more of a hit for artistic pre-teens, dishware is a great handmade gift option for younger children. Even toddlers can doodle to their hearts' content! Toddler art is truly unique and expressive in its own right. All you'll need to complete this project is:
A white porcelain dish (mug, bowl, plate, etc.)
A porcelain fine tip marker
Verbally explain the instructions to your little one, or lead by example to show them how it's done. After your artwork is complete, let the marker ink dry for an entire 24 hours. After that, you'll want to bake the porcelain dish for 35 minutes at 3000 degrees Fahrenheit. That's it! All that's left to do is gift and enjoy.
Painted Vases
Painted vases are perfect for a housewarming gift or a gift for family members who need some new decor! This project is easy, fun, and simple for kids to do, too. If they love painting, it's the perfect way to challenge their skills and creativity! Let them practice all of the designs they've mastered on paper, and apply them to a simple vase. You'll have an exceptional gift in no time at all!
Sugar Scrubs
Self-care is a must for both children and adults. It's important to step away from the hustle and bustle of everyday routines and to teach your kids about the importance of taking care of themselves and others. Sugar scrubs are the perfect way to accomplish this! To complete this project, you'll need the following supplies:
3 cups of sugar
1 cup and 2 tbsp of oil (choose something simple like coconut oil, olive oil, or almond oil)
10 drops of your favorite essential oils
A few drops of food coloring
Once you have all of your supplies, all your child will have to do is mix the ingredients together and pack them into a covered jar. It's as easy as one, two, three! While sugar scrubs make a flawless gift, encourage your kids to make a little extra for themselves. You're never too young to start a self-care routine!
Customized T-Shirts
Allow your kids to truly express their artistic side by letting them create customized t-shirts for friends and family. All you'll need is a few white t-shirts and fabric paint. You can use contact paper to create a shape for the t-shirt design. Place the contact paper on your shirt and let the kids go to town with paint! Wait for the paint to dry, remove the contact paper, and reveal their amazing designs.
To ensure your customized gift will last, use heat to set the paint once it's completely dry. Use a press cloth to protect your iron, and lightly press it over each painted section for up to 30 seconds. This final step will ensure the t-shirts can withstand regular washing and use!
Still Searching for the Perfect Gift?
Parents know their kids best! If none of our ideas stand out, there's no need to fear. Whether you're gifting for Father's Day, Mother's Day, birthdays, or any occasion, there are so many ideas to explore with your child, including:
DIY tote bags
Homemade suncatchers
Friendship bracelets
DIY playmats
Handmade birdhouses
Photo magnets
DIY holiday napkins
Homemade bookmarks
You can ease a bit of stress by seeing what materials you already have available around the house. If you have most of what's needed for a certain project, go for it! If you and your kids want to try something different and don't mind a little bit of shopping, that's okay, too. Don't sweat it! No matter which activity you choose, your kids will enjoy crafting a unique gift for someone they love.