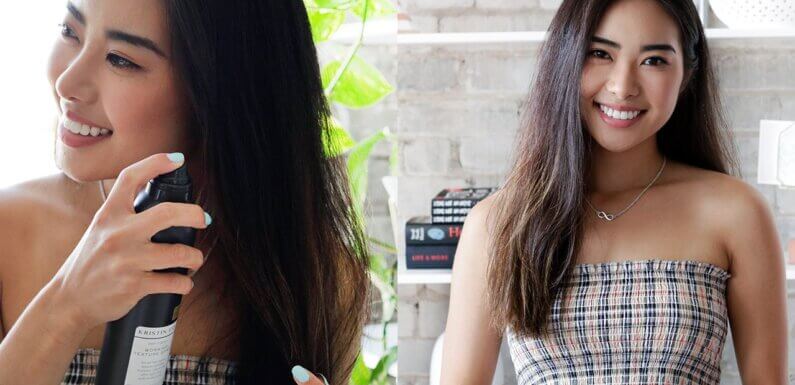 The right type of product and accurate massaging techniques works wonders for improving hair health.
In this context, experts suggest the use of particular natural-ingredient-based oils that are nourishing for hair roots. Plus, applying the various hair oil types properly also moisturizes and cleans the area appropriately when one washes hair later.
Besides knowing the best hair product options available, you should understand and follow the right massaging techniques, too.
Treat your hair with the following oil types (Dry & Oily)
Here are the main types of oil that would help with your hair health competently.
Coconut oil
Coconut is full of healthy vitamin E and omega-3 fatty acid content that promote both hair and scalp health. For people with dry hair type or curly hair, this is a satisfactory solution. For best use, warm the oil and apply; then leave it on for natural conditioning.
The longer a person keeps the oil on, the faster and better it absorbs into the scalp. Later, you would need two rinses to remove coconut oil completely.
Avocado oil
This oil type is an excellent source of antioxidants, minerals, and fats for healthy rich tresses. The latter repairs damaged hair well. Moreover, the biotin content strengthens hair follicles and moisturizes them.
Accordingly, experts suggest using avocado oil as a hair mask. Keep it on for 3 hours and then rinse the oil out. Also, heating this oil with water and applying it after hair wash works. Here, let the solution stay in your tresses for 20 minutes, then wash.
Almond oil
Almond oil comes with vitamin E, omega-9 fatty acids, and protein content. These make the hair less likely to break easily and its emollient quality moisturizes the hair filaments.
For application, add the sweet version of almond oil onto your hair directly or mix it with another, like coconut oil.
Olive oil
Olive oil is rich in fatty acid and vitamin E ingredients and holds emollients like oleic acid and squalene. All of these would help keep the hair soft and the scalp hydrated.
Notably, users should apply olive oil as much as their hair length can sustain. For proper conditioning of the scalp or the ends, 1-2 tablespoons of oil in ¼ cup quantity creates an effective solution.
Some oiling tips everyone must know
To care for your hair and scalp effectively, follow these tips carefully.
1. Massage your scalp
Not only do the oil types nourish the hair filaments, but it also improves the scalp condition of a person. Here, properly massaging the product into the scalp eases with appropriate penetration of its nutrients.
Thereafter, it naturally boosts hair growth and health and improves hair quality.
2. Be picky when it comes to choosing an oil
To note, every type of hair oil product would not suit each hair type.
Indeed, in the context of dry and oily hair, ones that would moisturize the latter may not be enough for the former. Moreover, some people have damaged hair due to too much hair colouring, while others have very thick hair.
The best hair oil type for each condition varies. For example, olive oil is best for dull hair treatment while neem oil suits oily scalp and hair better. The latter also removes dandruff efficiently.
3. Don't leave your head uncovered
Covering the hair with a shower cap after putting on oil is useful since oils seep better in a warm environment. Indeed, the scalp would absorb the oil quickly thereafter.
4. Use a toothbrush or bud to apply oil
Many people stick to using fingers to apply oil and massage the scalp. Instead, using buds or toothbrushes also help. According to some professionals, this is an easier and more thorough manner of evenly applying oil on the strands and scalp.
5. Do not leave it overnight
While some people leave oil after applying it on the head overnight, many experts advocate otherwise. Indeed, doing so can result in too much grime and dirt accumulation in the hair. These would stick to the oil more.
6. Don't forget to use hot towels
Putting a hot towel on the oiled-up hair would open the hair cuticles up and allow for better absorption.
How can Zoylee help in hair oiling treatment?
Download the Online salon booking app-Zoylee and get professional haircare service for your hair health. The following are the best benefits of a hair oiling treatment from the professionals here.
1. Analyze the porosity of your hair
Professional hair care specialists have training and knowledge of hair fibres and their composition. Plus, they understand what type of product supports specific hair types with different porosity levels.
Consequently, they can evaluate the condition of your hair. Later, they suggest appropriate hair health and oil products for treatment.
2. Choose the right oil according to your need
Different clients have specific needs for their hair types. For example, particular people have dry scalp and coarse hair types. Others have straight dense hair but a very oily scalp. Another example is people who have frequent dandruff issues.
With professional help from Zoylee experts, all clients would get fitting hair oil suggestions for their situation. The professionals conduct hair and scalp analysis as well to determine the best course of action for treatment.
3. Give a professional massage
The hair care specialists have training in different techniques like hair spas and massages. Therefore, they can provide adequate and invigorating scalp massages with the oil types. This improves better blood circulation in the region. This, in turn, boosts hair growth.
4. Activate pores with hot oil
Hot oil massage is effective for strengthening hair and scalp conditions, nourishment, and treatment. The experts available at Zoylee provide this service sufficiently.
5. Give a thorough cleanse
You can opt for the services at Zoylee, like hair spa and deep cleansing treatment with the oil massages. The professionals use appropriate techniques and products that properly exfoliate and clean the hair and scalp. Ultimately, this enhances hair growth.
Conclusion
All in all, for the best hair care and to improve scalp health, choosing the right kind of oil product is important. Check the ingredients and note their benefits for different types of hair conditions. For your dry or oily hair, take the advice of experts and massages to properly nurture the region.