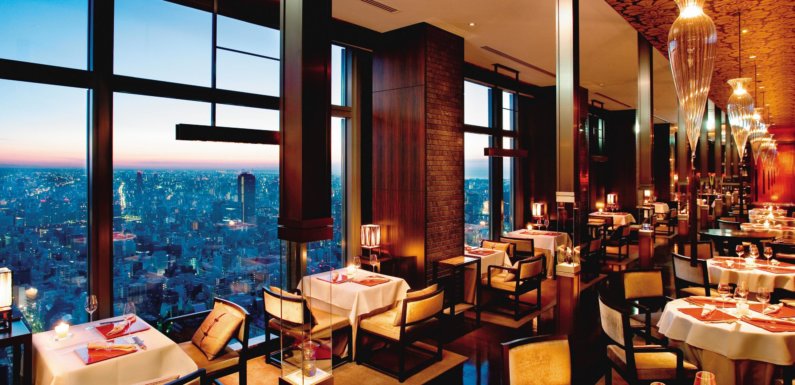 Teppanyaki is a modern Japanese dinner-theater-style cuisine featuring talented chefs using refined cooking techniques when grilling meat, seafood, and high-quality vegetables with style and elegance. Sometimes nicknamed "hibachi" outside Japan, teppanyaki means "grilled on an iron surface" and refers to the open cooking table where chefs usually prepare the meal in front of their delighted guests.
Based on traditional Japanese open baking, teppanyaki was introduced in the 1940s, when Japan adopted the American steakhouse and spread quickly overseas. What better place to live a world-class teppanyaki experience than in one of the world's most exciting, modern, and gourmet cities?
Here are 7 restaurants representing some of the best teppanyaki grills in Tokyo
Teppan Diner Jaken Ebisu
The region of Ebisu-Daikanyama is a favorite spot among the local population for its refined style and quiet atmosphere, qualities that can only be perceived in the chic Teppan Diner JAKEN.
This charming Tokyo teppanyaki haunt serves top quality beef and fresh seafood from the Seto A5 Indoor Sea and offers a quality dining experience that reigns in all five senses.
To savor their high-end Japanese black beef tenderloin, give up the sauce and enjoy it with salt, grated wasabi roots or yuzukosho, a Japanese pepper condiment made with grated citrus rind and salt, and peppers.
Teppanyaki Benbe Mita
Teppanyaki Benbe Mita, located in the Hamamatsucho district of downtown Tokyo, specializes in teppan cuisine – refined ingredients cooked on an iron hot plate. Discover Hiroshima-yaki, a tasty and tasty Japanese crepe containing a variety of ingredients sourced directly from Hiroshima in western Japan, as well as dense oysters from Hiroshima grilled in butter. The dish of the house, the sea urchin with spinach and a boiled egg on a crispy baguette, is known throughout the country after being featured on Japanese television.
Azabu Juban Romantei
Indulge in a high-class dining experience in this opulent Tokyo teppanyaki bastion, where vintage and modern furniture is inspired by the 70-year history of Japanese grilled finery.
By choosing not to limit their ingredients to a brand or region of Japan, but by storing in their kitchen the best provisions available that day, Azabu Juban Romantei wants to bring the best to its customers.
Try the Japanese black beef fillet from the best heifer of the day at Ginza's exclusive Yoshizawa Shoten butcher shop, or an oven-dried sea urchin served on burnt rice, freshly grilled on an iron cooktop.
Teppanyaki Shin
Teppanyaki in Tokyo has never been so charming. Teppanyaki Shin, located just steps from Ebisu Station, offers intimate lighting and walls painted in classic Japanese style, giving the restaurant a soothing elegance more than equal to the food.
The Chateaubriand steak, made with grade A5 Japanese black beef, it is crunchy on the outside and juicy on the inside, while A5 steak tataki is served with a ponzu citrus soy sauce that highlights the tenderness of the rare beef slightly stove.
Do not miss the sautéed foie gras, accompanied by their homemade Saikyo miso sauce, a naturally sweetened and fermented soybeans in golden color.
Teppan-yaki Miyachi
Enjoy a sumptuous experience at Teppan-yaki Miyachi, in the upscale Ginza district, where the chef literally puts 22 years to his service.
Miyachi offers two of Japan's leading brands of beef, Matsunaga beef from Shimane Prefecture and Kitasatsuma beef from Kagoshima, which carefully removes the meat for 60 days for ultimate tenderness and unparalleled depth of flavor.
Seared beef sushi, made from a beef tongue cut in the center, is not to be missed; Skewered skirt steak with a touch of Himalayan salt is also highly recommended.
Kisentei Steak with Teppanyaki
For truly superb cuisine combined with spectacular city views, visit the Teppanyaki Steak Kisentei in the Roppongi Midtown shopping, dining, and entertainment center. In this excellent teppanyaki establishment in Tokyo, meat and seafood are cooked to the perfect temperature to preserve their delicate flavors. Savor the refined sweetness of the abalone odori-yaki style (grilled for life) with fragrant kombu kelp, and enjoy top-quality Japanese beef selected by their sister store, the renowned Ningyocho Imagine beef restaurant.
Mansei Akihabara Chiyoda
The electric city of Tokyo, Akihabara, is a popular tourist destination better known for its manga and anime than for its fine cuisine, but great epicureans should take note: Mansei Akihabara Chiyoda is both on the top floor and at the top, offering some of the best teppanyaki grills in Tokyo.
Dive into the cityscape while dining with premium Japanese wagyu beef prepared by a personal chef. Top quality sirloin can be savored in a variety of ways, whether it is garnished with salt or garnished with the zing of wasabi horseradish.
Compare the best teppanyaki grills here Bite my Bun.