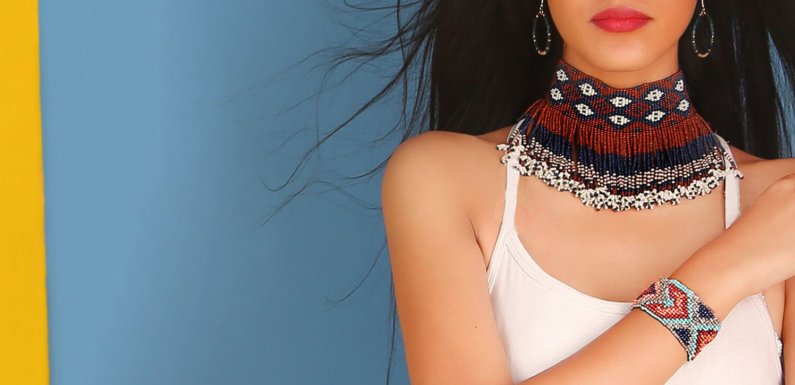 We have seen a lot of 90's trends coming back in this past two years, but 2019 is all about heavy choker necklace! What I love most about chokers is the versatility they offer to any outfit. If you choose classy, edgy or chic style, a choker necklace can easily fit in and make your personality look gorgeous.
Despite of having a millions of accessories options, choker necklace is a perfect option to pick for any night event. A fabulous choker will make you feel chic and feminine, this take your look forward. There are so many types of artificial jewellery which you can choose from any online platforms. Pairing a choker necklace with elegant attire is ideal, but for a daytime look can be worn with a pair of distresses jeans, but for a ethnic event, you can choose a off shoulder blouse and you are good to go!
Kullu Patti Choker Necklace
Reflecting the enthusiasm of the people of Himachal Pradesh, this choker necklace borrows inspiration from tribal jewellery. Add a touch of fun to your outfit by pairing it with this colourful choker necklace. This necklace can work best with a solid colour outfit, pair it up and style it with a tank top and a simple white shrug. This artificial jewellery is available online; you can choose designs from online platform and shine like a star.
Two Tone Choker Necklace
Make a statement with this two tone brass choker, handcrafted with rectangular pieces that features intricate floral designs matching two tone geometric earrings complete this stunning set. This choker necklace set can be worn with various outfits like a slip kurta which reveals your collar bone and make this necklace a statement. This type of artificial jewellery is easily available and also easy to pair as well.
Vishnu Avatar Choker Necklace:
A statement making choker necklace handcrafted in silver finish brass. It features three square embellishments, each with a beautiful depiction of the avatars of lord Vishnu, along with tiny ghungroo bells. This perfect choker necklace can be worn with many outfits like a high neck, an off shoulder top and many more. Style it according to your comfort and stand out from the crowd.
Pure Silver Maroon Choker Necklace
A stunning choker necklace that has been handcrafted in pure silver for a luxurious look is here. It features squares with maroon enamel work, enhanced with silver floral designs, for a rich finish. This can be worn be a tank and a long skirt look. It will add a perfect touch to your outfit.
This is a trend of the times; choker necklace can work for about a minimum of fifty outfits which makes a super choice for the young ladies. Handcrafted chokers necklace are really nice to wear as they reflect the craft in a different manner altogether. It is a great way to style your clothes. In the 90's you may have seen movie actress in these particular pieces which is now a different style statement.
Artificial jewellery can work for most of occasion, with the changing trends you cannot ask for gold or silver on a daily basis. Here artificial jewellery comes for your rescue. These types of pieces definitely hint 90s in them but are so beautiful today as well. Evolving designs and crafts have led to the one or the creation which are now our favorite. If you are going for a minimalist look then some dainty choker necklace can work for you. Explore the online platforms and shop for beautiful choker necklaces.