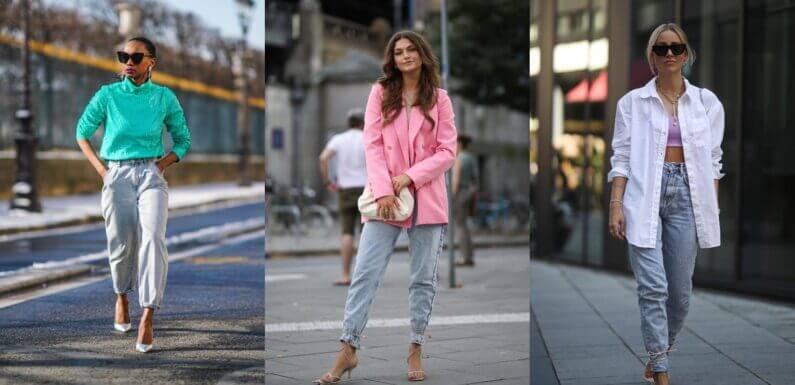 One of our favorite shopping moments is finding the perfect pair of jeans. When you know, you know! Picking up a pair of jeans with the perfect cut, in a great wash, and with a comfortable fit sounds easy but can actually be a bit of a challenge.
But the quest isn't over for the perfect pair of jeans— they have to be styled! When it comes to choosing complementary, figure-flattering separates that include jeans, we have some simple tips to get the most out of the favs in your closet.
Keep your capsule wardrobe up-to-date with a few of these amazing suggestions!
Straight Leg Jeans + Button-Down Shirts
One of the easiest pairs of jeans to shop for and style are straight leg jeans. We like a denim that has a bit of stretch (but not too much) when we are looking for straight leg jeans. An average to high-waisted straight leg jean works for every body shape and every woman.
If you are average height, short, or tall, be sure to buy a pair of straight leg jeans with an adequate length. The jeans should reach the top of your foot. If you need to tailor a longer jean to get the right length — do it!
Straight leg jeans are unforgiving when it comes to length. Highwaters got you teased in your school days for a reason, there's no need to try them again.
We love all washes of straight leg jeans — from white to black and every shade of blue!
Once you've grabbed your favorite straight leg jeans, reach for a stylish button down shirt or voluminous blouse. We like to see both tucked in shirts and shirts worn out paired with straight leg jeans.
Wear your button down + straight leg with a great pair of booties or boots for a classic contemporary look that says timeless casual streetwear. Accessorize your look with a great belt or purse!
Image: Unsplash
Boyfriend Jeans + Waist Length Tops
Next comes a weekend classic — the boyfriend jean. Our favorite selections are light to medium washed denim with some wear (occasional rips included). Go as comfortable as possible with this pick, soft overwashed boyfriend jeans are nearly irreplaceable, so if you find a great pair, don't hesitate to buy them!
Once you've selected a great pair of boyfriend jeans, reach into your closet and pull out a top that reaches to the waist — no longer.
Boxy tops pair great with boyfriend jeans. We like short sleeve loosely knit sweaters, loose t-shirts, and cropped tops that reach just to the waist to wear with our boyfriend jeans.
You have probably seen this look worn by your favorite celebrities — boyfriend jeans are definitely the official jean of Starbucks.
Style this look with an easy-to-wear pair of slip-on sneakers. You can cuff the bottoms of your boyfriend jeans as may be needed to pair with a great shoe. Add a simple hairstyle (messy bun or ponytail) for an effortless look that's great for the weekend or running around town.
Skinny Jeans + Cardigans
Oh, skinny jeans, how you make life so sweet! We're sure you have at least one favorite pair of stretchy, squeezy skinny jeans in your closet.
This denim wonder has taken over the jeans market over the last decade. You can easily shop for a great pair of skinny jeans pretty much anywhere! We love these jeans because they work with all body types and are super comfy.
When it comes to styling your skinnies, go for a top with length. We love to pair skinny jeans with cardigans. In summer, choose a long, sleeveless cardigan to layer with skinny jeans and a tank. In cooler temperatures, layer with a thicker knit — wool blends are great all-weather choices. Pair your skinnies and cardigan with a great pair of flats or booties.
You can even layer your skinny jeans with a fingertip length light overcoat in colder temps. Extend your skinny jeans into the evening with a pair of pumps and lose the cardigan to reveal a great top or blouse.
Image: Unsplash
Mom Jeans + Fitted Shirts
Now, this last pair of jeans is definitely the most difficult to source. Finding the perfect pair of mom jeans for your individual style and fit may be the fashion challenge you've been looking for this season. If you're up to the challenge, get to shopping!
We love mom jeans with vintage details — think pleats, high waists and 90's washes. You could possibly find the right pair of mom jeans at a thrift store, but you may have to go for a pair of boutique jeans to find a perfect fit!
Once you've selected your mom jeans, reach for a fitted shirt. Because the mom jean tends to be a heavier denim with a heavy waistline, we like to lighten this look with a simple fitted top.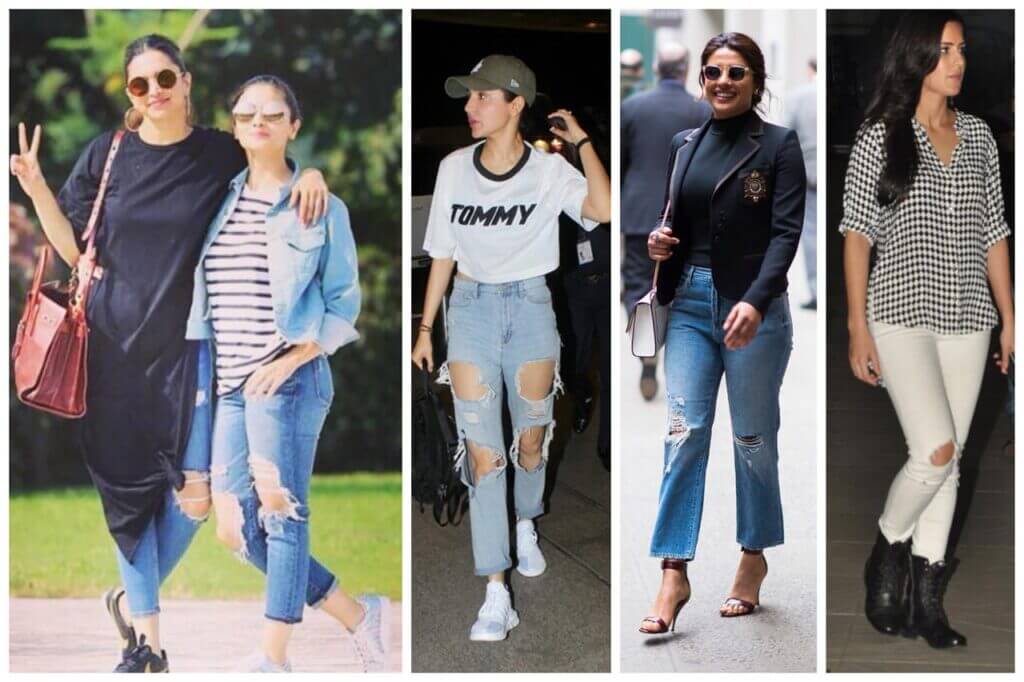 Choose a top that fits your individual style and the temperature. Short sleeve, long sleeve, prints, and sweaters are all great choices to pair with a mom jean.
Finish your outfit with fun accessories that could include a simple gold necklace, a pair of earrings, or a fun pair of shoes. Mom jeans are versatile and fashion forward, so you can layer and pair these jeans with a myriad of options.
When it comes to fashion classics, what's a more recommended outfit than a pair of jeans with a great top? Use some of our tips to style denim choices that you already have in your closet or take a few minutes to find something new!