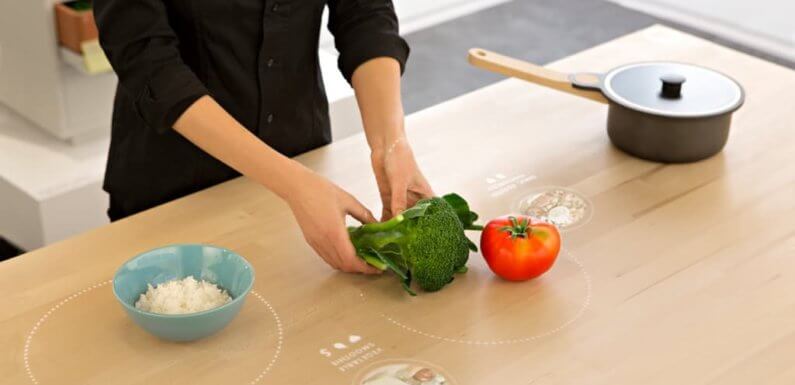 As technology continually develops and changes around us, it's somewhat refreshing to see that timeless recipes like a classic bowl of soup remain unmoved. As our lives and the culture around us are dragged ever faster into the 21st Century, we still have the pleasure of celebrating soup's place as one of our nation's favourite healthy dishes.
But just because our love of soup has remained unchanged, it doesn't mean that the technology around it can't step up and provide us with a delightful dining experience.
Here we explore three of the biggest developments in smart kitchen technology, and how they can benefit the lives of soup aficionados everywhere.
SapienStone Smart Slab
Produced by Swedish/German studio Kram/Weisshaar, the SapienStone Smart Slab looks astoundingly cutting edge. So cutting edge, in fact, that it's bordering on literal sharpness. The ceramic tile that sits on the surface of the Smart Slab is only six millimetres thick. 
This innovative approach to creating a slender tabletop has meant that stacks of technology can be packed underneath, without anybody noticing.
The result of this combination of paper-thin materials and innovative technology is a smart kitchen table like no other.
Nestled underneath the Smart Slab are heating and cooling rings, designed to keep your food and drink at the optimum temperature. This can revolutionise our experience in dining, especially for those of us who are eager to keep their soups as hot as possible.
The Smart Slab's designer, Clemens Weisshaar, explains the temperature dynamics of his creation: "It's really simple and it keeps the food hot. You need 42.5 degrees Celsius, not more not less. You can put your hand on it and it won't burn you. With the cooling, you need minus five degrees Celsius to keep a glass of water or a bottle of sparkling wine cool. It's quite simple."
The touch-screen surface of the table means that cleaning your kitchen has never been easier, and all temperatures are controlled under the table's surface with eight heating panels distributed to where guests will be sitting and even more cooling points to boot. Two 'inductive cooking' plates are located at the end of the table also.
Despite its opaque look, a light up display means that you can control the Smart Slab with ease. Welcome to a world of food that never has to cool down to room temperature.
Tipic Tuler Kitchen
Similarly striking in appearance is Tipic's Tuler Kitchen. Tuler actually takes the form of a centrepiece to a kitchen space, with the functionality of a worktop as well as holding dining potential. The modular approach Tipic have utilised in their creation is designed to mirror an Italian approach to dining.
The Tuler Kitchen is so brimful of features that it's hard to know where to start. The gesture controlled sink seems as good a place as any, though. While Tuler Kitchen has the appearance of a flat surface carved out of marble, with one hand gesture a sink falls into the table. Another hand gesture then starts the tap running.
Alongside the sink is integrated scales and a gesture-controlled drawer – users can even enjoy a built-in touch sensitive mobile phone charger, just to make finding recipes and food preparation that much easier.
Of course, there are also built in translucent hobs for cooking, completing Tuler Kitchen's repertoire as one of the best ways of preparing and creating your food in one fell swoop.
IKEA Smart Kitchen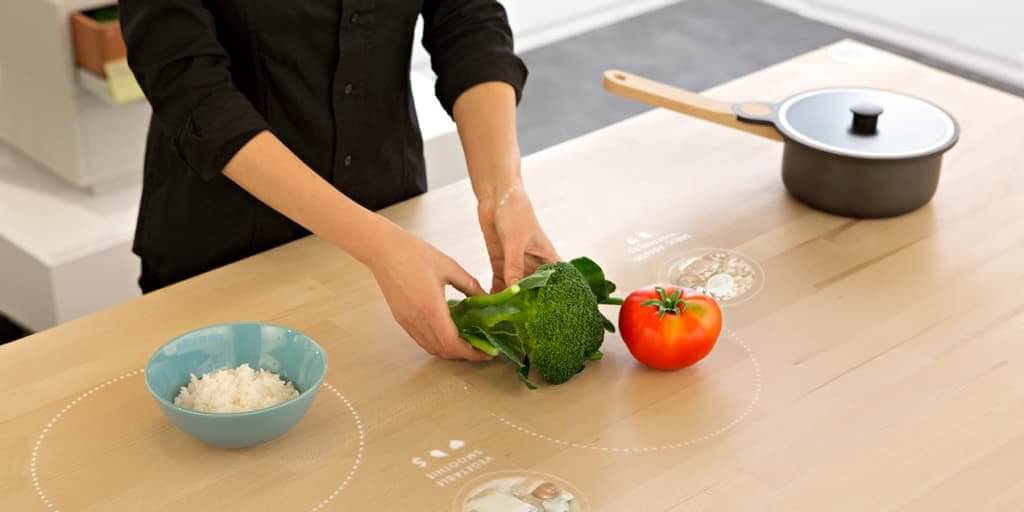 Swedish furniture giants IKEA raised some eyebrows in their Smart Kitchen concept. Similar to the Smart Slab, their design takes the form of a tabletop but carries so many features that you'd never be struggling to think of what to add to your soup maker ever again.
Created for the Concept Kitchen 2025 initiative, IKEA's Smart Kitchen interacts with users through a display under the table's wooden surface. Such is the intricacy of the design that when you place a food item on the tabletop, it automatically identifies it and uses the under-surface display to suggest what foods would be good to combine into a meal.
"It sees what grocery you put onto it and decides through colour, shape and size what grocery it is," Ingrid Allenbach, who worked on the Smart Kitchen at Lund University explained. "It will then suggest what will go well with it and give you recipes to guide you through how to cook them."
Magnetic coils installed under the table can also work as induction hobs, making IKEA's Concept Kitchen a fully multipurpose surface. Whether you want to prepare food, cook food, or eat food, it can all be done in one place.