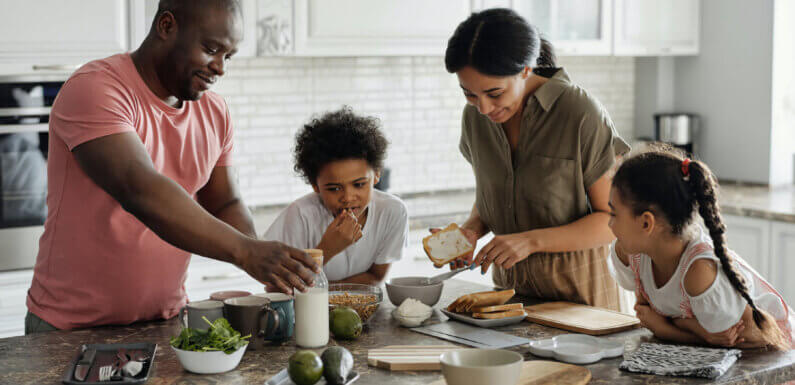 Why is a healthy breakfast important?
Nutritionists tirelessly reiterate that breakfast is the most important meal of the day, and it is impossible to skip it in any case. In principle, each of us is ready to agree with this, but it can be difficult not to limit ourselves to a cup of coffee on the run because there is always so little time. Especially if you are part of a large family, and it is your responsibility not only to cook but also to feed – your husband, children, yourself. By the way, the best keto supplements can help you receive the beneficial elements for your healthy morning.
We have collected 7 quick and reasonably simple healthy family breakfast options. They will help save your morning time because you can serve such breakfast to both an adult and a child – and, hopefully, everyone will like it! Let's take a closer look.
What does healthy breakfast include?
The right breakfast is not only tasty but also healthy. The perfect breakfast is a combination of protein and carbohydrates. Good sources of protein are:
eggs,
meat, especially chicken and turkey,
sea fish,
soy,
yogurt,
milk,
cottage cheese,
legumes,
nuts,
green leafy vegetables.
Moreover, nutritionists strongly recommend alternating the products from which we get protein in the diet. After all, not only the amount of protein in grams is essential, but also the source: in different foods, protein is combined with a different set of macro- and microelements, such as vitamins and amino acids. Also, it is worth remembering that proteins are plant and animal, and these two species complement but do not replace each other.
Carbohydrates should also be selected carefully. Useful are considered slow; they are not instantly absorbed by the body. These include most cereals, as well as fresh vegetables and fruits, chocolate, cocoa. How to make a healthy breakfast delicious? Often parents are faced with this problem: the child knows very well which food is good to eat for a healthy breakfast. But he refuses because it simply does not taste good. You will find some healthy breakfast recipes for kids that will help you to solve this problem.
7 healthy breakfast recipes for the whole family
Combine these recipes and add something from yourself – in this way, you can think of a menu for the family right away for a week in advance and please every gourmet from young to adult.
Bruschetta with chicken and avocado
This classic Italian dish has hundreds of variations and is found in many diets. It is not surprising because toasted bread, supplemented with various ingredients, is an excellent option for a healthy breakfast for kids before school.
Oatmeal with almonds and berries
Cereal, supplemented with fruits and nuts, will be a good breakfast for the whole family. You can use quick-cooked flakes – this will significantly save cooking time. But nutritionists still advise using whole oatmeal – there are more fiber and healthy vitamins.
Chia Pudding
This diet dish is perfect for the intestines and body. Besides, chia seeds contain a lot of calcium, magnesium, and omega-3 fatty acids. Only 2 tablespoons of these wonderful seeds can relieve hunger before dinner. Also, the regular use of chia protects against problems with blood vessels and the heart. It is one of our favorite ideas for healthy low-carb breakfast on the go.
Spinach Omelet
Doctors consider egg white a reference for a person – it is absorbed best and brings maximum benefit. So we advise you to include dishes with chicken or quail eggs in the morning meal. It is also one of the perfect healthy keto breakfast ideas.
Cottage cheese with fruits
This rich breakfast combines taste and benefits. Cottage cheese will serve as an excellent source of protein and fat, and seasonal fruits contain enough complex carbohydrates and a lot of vitamins and minerals.
Toasts with avocado and poached egg
Toast with avocado and egg is perhaps the most satisfying breakfast in our selection. This recipe has it all: slow healthy carbohydrates and fiber, "good" fats, and lots of protein.
Delicate lemon pancakes with honey and blueberries
These fragrant lemon pancakes are perfect for a healthy breakfast. The advantages of this dish are the original citrus notes and airy consistency.
Conclusion
Breakfast is not only the very first meal but (as scientists have proved) the most important. Do not skip it if you even decide to go on a diet. After all, the body must receive a boost of energy for the whole day. Besides, we have the best metabolism in the morning. And the healthy breakfast we eat will be quickly digested. It will give strength to new achievements while not adding extra centimeters to the waist.
In the morning, fragrant coffee and black tea (with mint or lemon) inspire and invigorate. And if breakfast is for children, it is better to offer them green tea, hibiscus, juice or yogurt.
What is your favorite family breakfast? Please share the recipe in the comments below.