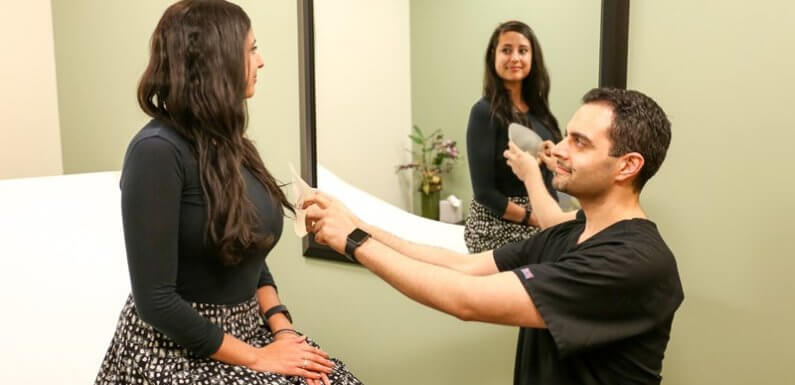 What is Breast Reduction Surgery?
Also referred to as reduction mammaplasty, breast reduction surgery is aimed at helping women achieve a breast size proportion to their body and to reduce discomfort associated with large breasts. It involves removal of excess fat in the breast, glandular tissue and skin.
Large breasts which are not proportional to body may lead to physical and emotional distress. The condition is medically termed as macromastia which results in physical discomfort due to excess weight of breasts. Some women are unable to accomplish their daily tasks due to pain and discomfor
Good Candidate for Breast Reduction Surgery
Women with overly large breasts are the candidates for this surgery. The issue may lead to a number of health and emotional troubles. Apart from issues related to self-image issues, women tend to experience a lot of physical pain and discomfort. The excess weight of breast tissue impairs their ability to lead an active life. Women also suffer from self-consciousness related to large breasts.
You may a candidate for this surgery if:
You are in good physical health
You have realistic expectations about the surgery
You don't smoke
You face emotional issues due to excessively large breasts
Large breasts have restricted your physical activity/day to day activities
Weight of breasts causes back, neck and shoulder pain
Shoulder indentations from bra straps
Skin irritation under breast crease has started to bother you
You are ready to bear the cost of plastic surgery and have understood the benefits and risks associated to it
Things to Know about Reduction Mammaplasty
Breast reduction surgery can interfere with some diagnostic procedures
Piercing of breast and nipple may cause serious infections
Your ability to breastfeed after reduction mammaplasty may be limited
You must talk to your doctor if you plan to nurse a baby in future
The surgery is best done once your breasts are fully developed
Changes in the breasts during pregnancy may vary the results of an earlier breast reduction surgery
Risks of Breast Reduction Surgery
When and why you should make the decision to have breast reduction surgery is personal. It is important to have a detailed discussion with your surgeon about the advantages and risks prior to the final decision.
Here are some of the possible breast reduction surgery risks:
Blood clots
Unsightly scarring
Infection
Changes in nipple or breast sensation (temporary or permanent)
Risks related to anesthesia
Bleeding (hematoma)
Poor wound healing
Unfavorable breast contour
Irregularities in breast shape
Skin discoloration
Swelling and bruising
Permanent pigmentation changes
Serious damage to deeper structures (lungs, blood vessels, nerves)
Breast asymmetry
Accumulation of fluid
Excessive firmness of the breast
Potential inability to breastfeed
Potential loss of skin/tissue of breast at the site of incisions joint
Potential, partial or total loss of nipple and areola
Deep vein thrombosis
Cardiac and pulmonary complications
Persisting pain
Allergies to tape
Allergic reaction to suture materials and glues
Allergies related to blood products, topical preparations or injectable agents
Permanent damage or extermination of fatty tissue deep in the skin (fat necrosis)
Likelihood of revision surgery
Breast reduction is performed to address medical issues associated to large breasts. Patients who do not show symptoms of macromastia but are unhappy with the size of their breasts may also proceed with this procedure. Most patients choose to go for this surgery for cosmetic reasons.